Advisor/Student Responsibilities
Advisor Responsibilities
Work with individual students to develop long-term academic plans and set short term goals to achieve those plans.
Provide a clear explanation of course requirements for a student's chosen program. This should include the general studies core, degree core, elective options, and internship opportunities, among others.
Discuss areas of personal concern such as balancing academics with work and social obligations.
Discuss academic progress during meetings with students.
Contact students receiving deficiency or probation notices. Set appointments to discuss and identify progress problems.
Explain school policy and procedures.
Refer students to campus resources for help with their unique needs.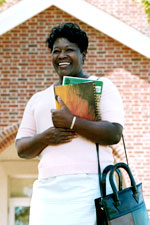 Student Responsibilities
As soon as possible make sure to submit all Admissions documentation: this includes any transcripts from past colleges. Your advisor needs to review this material to help you make the best degree and course choices.
Use the information and guidance provided by an academic advisor to make wise decisions.
Once you are on your way to completing courses specific to your major ask yourself two important questions to make sure it is the right major for you.

Do you find the content of the core courses interesting?
Do your courses cause you to look forward to future course work in this major?

Make the school aware of any changes in your personal information. Change of Status forms are available at the Registrar's Office.
If class absence cannot be helped you should contact the instructor immediately.
Acquire and read the Wilmington University Student Handbook.
Be familiar with and abide by school policies defined in the University's catalog and the Student Handbook.
Schedule periodic meetings with your academic advisor.