Administration of
Human Services
Master of Science
Position Yourself as a Leader
The Master of Science in the Administration of Human Services is an advanced degree program with a mission to produce competent professionals who are poised to be effective leaders of human service agencies. The program prepares scholarly practitioners who desire to pursue careers, or enhance their current positions, in a variety of human service organizations that provide social services to a wide variety of client populations, including but not limited to: non-profit organizations, for-profit service providers with a social mission, and government agencies. Students are provided the opportunity to fully integrate their learning by applying the knowledge they obtain through coursework, with practical skills they gain through agency field experiences. The program is uniquely designed to meet the needs of those interested in entering the field of human services, as well as professionals who seek higher level executive or administrative challenges in their current organizations.
Plan for Your Future in Human Services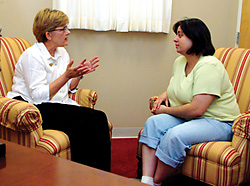 Professionals who want to advance in positions such as program manager, volunteer coordinator, development director, group home or shelter worker, case manager, or a person working in any public sector human service division could benefit from this degree. Students who are seeking an advanced degree and possess an undergraduate degree in Human Services, Psychology, Criminal Justice, Behavioral Science, Social Work or Organizational Dynamics may want to consider this program.
Convenient Scheduling for Your Busy Lifestyle
The program is 33 credits and has a built-in flexibility that respects the professional and personal commitments and responsibilities that today's learners have, while pursuing their goal of advanced academic studies. Our classes are offered in formats that conveniently fit the busy schedules of students: seven-week block formats, weekend modular formats, and online. Students are required to complete a 120-hour practicum experience that covers a semester-long time frame. Students taking courses year-round could complete the degree in 12 months at an accelerated rate, or in 18 to 24 months following a more traditional schedule.
---
This information applies to students who enter this degree program during the 2015-2016 Academic Year. If you entered this degree program before the Fall 2015 semester, please refer to the academic catalog for the year you began your degree program.