Wilmington University College of Education will host the Teacher Leader Camp from 9:00 a.m. to 3:00 p.m. on Saturday, October 25, 2014.
The event will be held at two Wilmington University locations at the same time: the Wilson Graduate Center…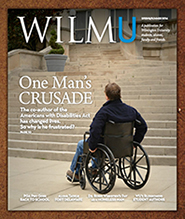 WILMU Magazine
The WilmU Magazine is printed twice a year and available online. The magazine includes articles on campus events, alumni news & notes, athletics, commencement, community outreach, and more.
Read the Magazine
WilmU in the Community
Wilmington University students, faculty and staff are active in the community. Our hope is to not only to make our communities better, but to enhance and make a positive impact.
See what we are doing in the community.