Blackboard Mobile Learn App
As of August 2015, the redesigned Blackboard Mobile Learn app is now free for students to and faculty to download the app to their iPhone, iPad, iPod touch, and Android devices. Use the app to access announcements, submit assignments, post to discussion boards, and much more! The free app works on any carrier or cellular network.
*If you prefer, you can simply access Blackboard from a mobile web browser. Downloading the new Blackboard Mobile Learn app is an option that may be beneficial to faculty and students as the interface is optimally designed to be viewed on mobile and tablet devices.
Download Instructions
Visit the:

App Store on your iPhone, iPad, or iPod touch
Google Play Store on your Android

Search for "Blackboard Mobile Learn"
Install the app
Search for Wilmington University
Login with your personal Blackboard credentials
Blackboard Mobile Learn Features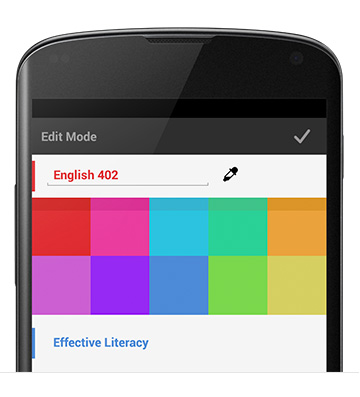 Customization
Navigating an everyday app should be simple, and that's why we rethought how students and instructors access the things they use most. They can now rename, hide, reorder, and color-code courses so they decide what's most important in the app. With features like favoriting blog posts, folders, and announcements, no one will have to click through a whole course to get to the places they visit most often.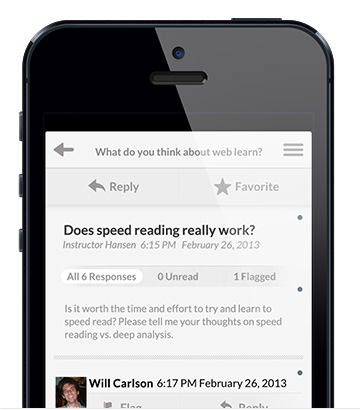 Discussions
The Discussion Board is a key course communication tool for engaging students. It's a forum for students to ask and answer questions while allowing instructors to chime in. Students and teachers can easily read-up and contribute to Discussions from Blackboard Mobile Learn - they can even upload media from their mobile device as part of a Discussion attachment.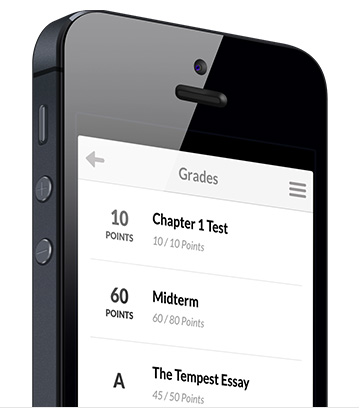 Grades
Students can find out how they did on their last midterm or homework assignment by using the Grades tool. They'll even be sent a Push Notification as soon as an item in their course has been graded. Gone are the days of students waiting around wondering if their grade has been posted.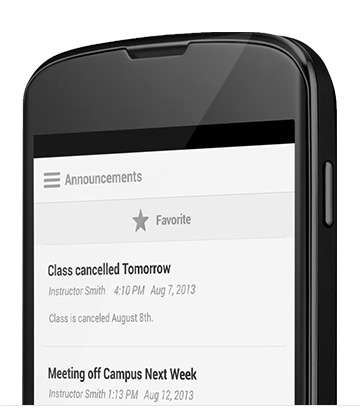 Announcements
Assignment due? Class cancelled? This is the place where instructors go to post the news students need to know. Students have instant, on-the-go access to the latest announcements, and instructors can post announcements anywhere, anytime.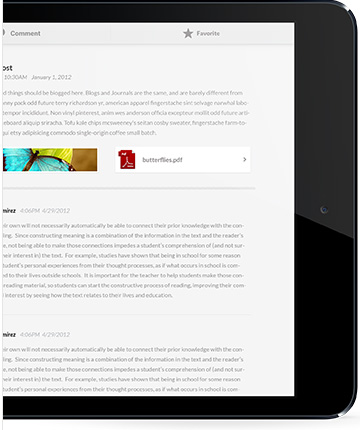 Content
Students can access content uploaded by their instructors and interact with it on their device, using Blackboard Mobile Learn mobile LMS or any other application that supports those documents.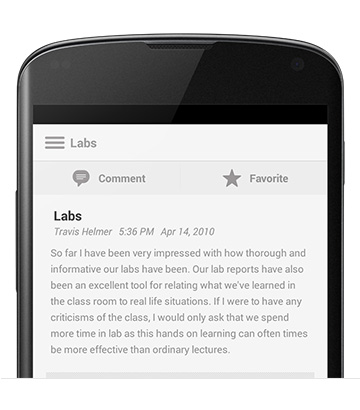 Blogs
Classmates can read blog posts and interact with each other by posting comments and uploading media as attachments on blogs (Android and iOS) as well as uploading non-media files (Android).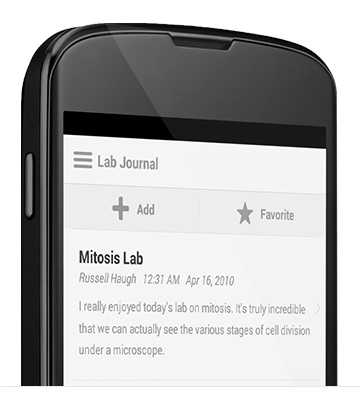 Journals
Students can reflect on their course Journals through Blackboard Mobile Learn, as well as comment on peer Journals. Instructors can use this tool within the mobile LMS to comment on student journals.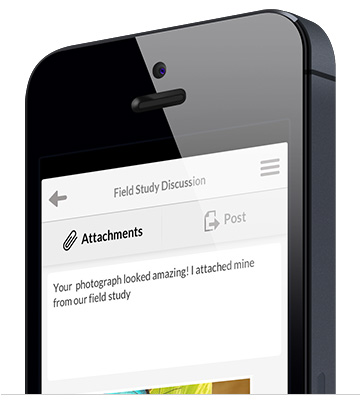 Dropbox
Now you can link your Dropbox account to Blackboard Mobile Learn on your iOS and Android device! Students and instructors can easily manage critical course documents from their mobile devices, without ever leaving the Blackboard Mobile Learn app. Not only can students and instructors save their course content to their personal Dropbox, but they can also upload documents to discussions and blogs with a single click.

Tests
Who says test-taking can't be fun? Students now have the option to take Mobile Tests either via Blackboard Mobile Learn on their iOS or Android device, or on their desktop computer. Seven distinct question types ensures a dynamic experience. It's never been easier to take tests on the go.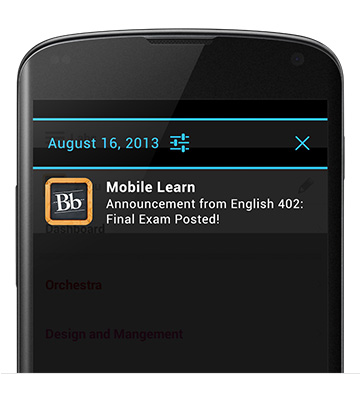 Push Notifications
Students can now elect to receive automatic, personalized notifications delivered straight to their mobile devices to help them stay informed. Students can receive notifications for new announcements, new graded items, a test being posted, and many other course activities. No more constant checking for midterms being available and grades being posted. Now, course activity comes to you.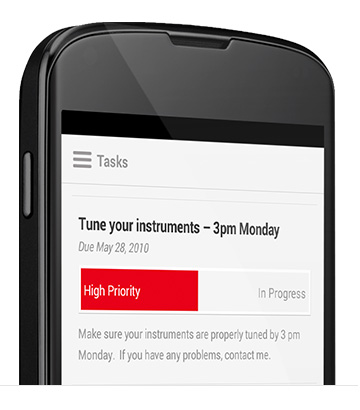 Tasks
Instructors can help students track and manage the progress of various tasks, from turning in homework assignments to midterm reminders to purchasing textbooks. The tasks tool allow students to mark when they've started a task and when it's complete.
Tests that contain ONLY the following question types can automatically be taken via mobile devices:

True/False
Multiple Choice
Short Answer
Hot Spot Fill-In-Multiple-Blanks
File Response (images only)
Calculated Numeric

Any test that contains question types other than those listed above cannot be taken via a mobile device. Any student attempting to access the test via the Blackboard Mobile Learn app will be automatically instructed to take the test in the Learn environment on their computer.
All mobile compatible tests can be taken either on a computer OR a mobile device