Weather Alert
There are no weather-related announcements.
This page was last updated: Wednesday, February 7, 2018 6:48 AM
When revisiting this page for updates, be sure to click your browser's REFRESH or RELOAD button to get the most updated information.
We encourage our students, faculty, and staff to use their own discretion in determining safe travel conditions in absence of official University closings or cancellations as we cannot always accurately assess or predict conditions in all of the localities from which our constituents travel.
University Safety Home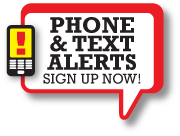 Students at all Wilmington University locations can now call a central telephone number above (toll call outside New Castle county) for information or updates regarding weather-related University closings or cancellations.
Radio Announcements
The following are local radio stations where you can hear emergency alert messages for Wilmington University.
1150 AM WDEL
93.7 FM WSTW