Fall 2017 Library Newsletter
Keeping up with Current Events: North Korea

Puzzled about the unfolding news on North Korea? To help you better understand more about this enigmatic country, we have compiled a sampling of books and audiobooks available through the WilmU Library eBook Collection and Delaware Library Catalog. To request print books, simply click "Place Hold" from the catalog record. Login instructions can be found here. Materials will be sent to the library in New Castle. Free delivery to your home is available. Contact the library once you receive email notification. View the books and audiobooks here.
Message from the Director
Welcome to the Fall 2017 semester! This new school year promises to bring challenges as you study topics that may be unfamiliar. Or, you may encounter perplexing issues while wrestling with thoughts and ideas presented by your instructor and classmates. We in the Library promise to do our best to serve your research and learning needs throughout your time here at WilmU. As the world outside of academia is transformed by social and technological developments, the information environment, and the library's role, continues to evolve as well. Your Library here at WilmU provides physical and virtual learning spaces that connect you with this information environment. Librarians are your guides as you navigate toward your goals. So seek us out! Start your research by finding out what's happening in your Library in our latest newsletter. Best wishes for a successful semester!
Mark Your Calendar
Wednesday, October 25th | 6:00PM
New Castle Campus Library

Join us for a special talk from local author, Kate Roshon. She will discuss her science fiction novel, Haven. This event is open to the public and free of charge. Light refreshments will be provided.
FYE Students Explore Fake News

This year the Library exercise for the FYE students is focused on the timely topic of Fake News. Fake News is false or misleading information meant to play on the emotions of the audience. Fake News is nothing new, but social media allows inaccurate information to be spread faster than ever.

FYE students are learning how to identify Fake News by evaluating the author, publication source, and viewing additional viewpoints on the topic. Don't spread Fake News! Learn how to spot Fake News by viewing the Library's Fact Checking & Fake News Guide.

Textbook Alternatives

"Open Educational Resources (OERs) are any type of educational materials that are in the public domain or introduced with an open license. The nature of these open materials means that anyone can legally and freely copy, use, adapt and re-share them. OERs range from textbooks to curricula, syllabi, lecture notes, assignments, tests, projects, audio, video and animation" (UNESCO).

The library provides access to OpenStax OER Textbooks through our Discovery search engine on the Library homepage. Simply type "OpenStax" in the search box to locate textbooks in your preferred subject area.

Need help putting together your reference page?
RefWorks is a reference management service that supports the needs of students and faculty. With an improved user experience, full-text management and collaboration features, RefWorks gives students and faculty a tool that enables a more efficient and reliable process for producing research papers. Setup a free account to start using RefWorks!
For more information, visit the RefWorks Guide.
Library Login Information
Library Computer Login
Delaware Library Catalog Login
ILLiad Login for Interlibrary Loan
Use your new myWilmU login to use a computer in the Library or Learning Commons.

To log in to the Delaware Library Catalog you will need your Library Card Number and PIN. Your Library Card Number is your Student ID number. Example: W00055555 / W00155555. Your complete Student ID number can be found by clicking on My Profile in myWilmU. Your ID number will be listed below your name on the left side bar. The default PIN is set to "changeme". We strongly recommend that you change your PIN to something you can easily remember.

Your myWilmU Email Address is your Username for ILLiad. Current users will continue to use the same ILLiad password. If you are a new user, your password is the last 4 digits of your Student ID number. This can be found by clicking on My Profile on your myWilmU home screen. Faculty, your myWilmU Email Address is your Username for ILLiad.

For assistance please call or email the library: 1-800-451-5724 librarycontact@wilmu.edu
New Resources
Gale Databases
The Library's newest resource from Gale provides a collection of 51 individual databases, covering a multitude of different subject areas. Click here to view them all.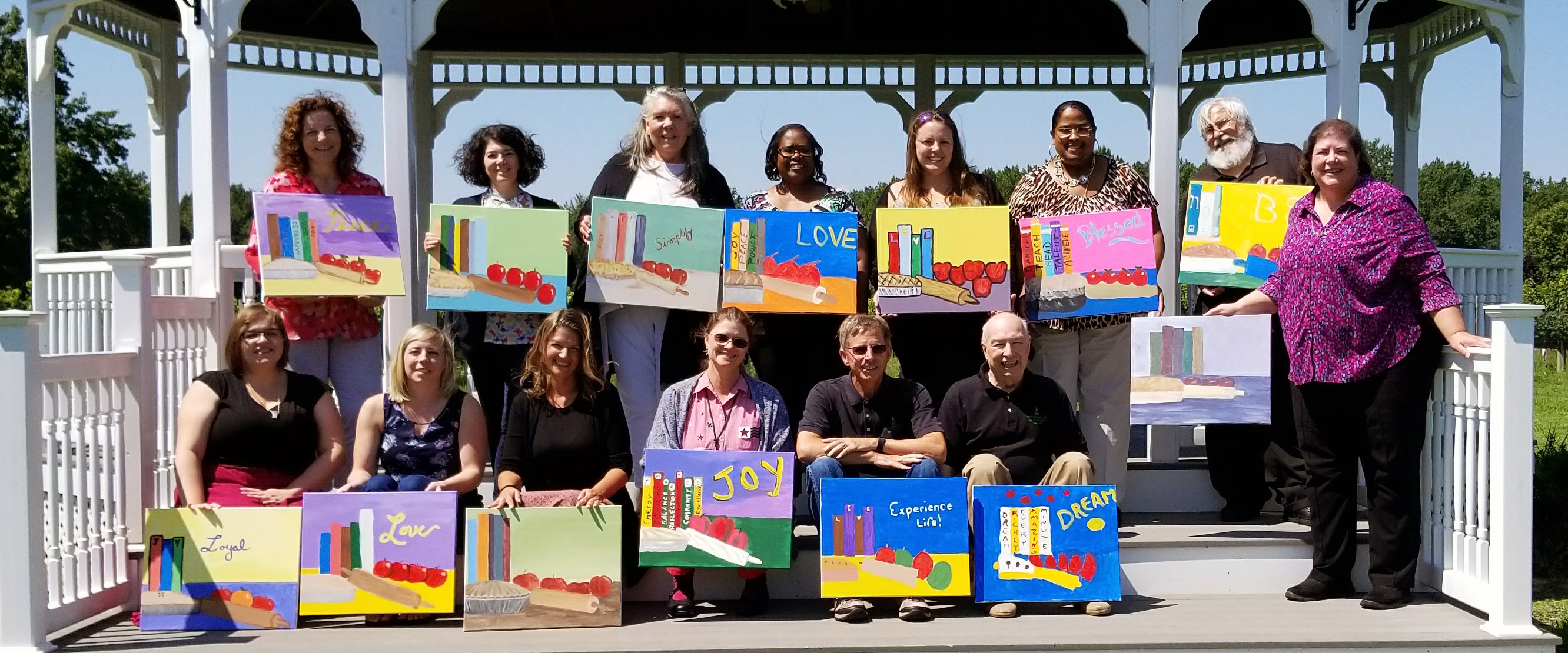 Staff Retreat
In late August, the Library and Learning Commons Staff visited the Harvest Ridge Winery in Marydel, Delaware for their annual Summer Retreat. The group was first guided through a painting activity by Dr. Rosetta Roach. Next, a presentation on mindful eating was given by Dr. Doris Lauckner. After lunch Dr. Nina Campanicki led two fun team building activities for the staff. Thank you to Harvest Ridge Winery and all participants for a wonderful retreat!
Our Student Workers
| | |
| --- | --- |
| | Robin Morgan, Deppert Learning Commons |
| | |
| --- | --- |
| | Michael Wright, New Castle Campus Library |
| | |
| --- | --- |
| | Keziah Nyannor, New Castle Campus Library |
| | |
| --- | --- |
| | Matthew Heintzen, New Castle Campus Library |
| | |
| --- | --- |
| | Iris Ayala, Dover Learning Commons |
New Staff

Welcome Bethany Geleskie

Bethany Geleskie has a long history in libraries. Since the completion of her Masters in Library Sciences in 2014 she has worked in both academic and public libraries, focusing particularly on information literacy and instruction. She looks forward to working Friday evenings in the Dover Learning Commons.
View as a Web Page

Company Name


unsubscribe