Lynda.com - Online Training
Get the most out of your software
Lynda.com is a leading online learning platform that helps anyone learn business, software, technology and creative skills to achieve personal and professional goals.Once you have an account, you can access these high-quality training tutorials that are taught by industry experts and available 24/7 for convenient, self-paced learning.
The most common use for this online training site is to increase your productivity by expanding your software skills.
Topics and Software Categories
Lynda.com offers a wide variety of software training courses including:
Microsoft applications such as Word and Excel.
Adobe applications such as Dreamweaver, Photoshop, or Acrobat.
Many other applications in the disciplines of: 3D, video, photography, social media marketing, web design, graphic design, and more.
Sampling a Lynda.com Account
Logon to Lynda.com and set up your free 30 day account to get a feel for Lynda.com and what you are interested in learning. After you've tried the free access to Lynda.com, please email edtech@wilmu.edu to request an account.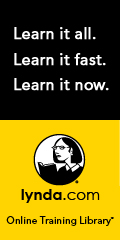 The Educational Technology Department, in collaboration with the Human Resources Department, is excited to offer a lunch-and-learn series: Lunch with Lynda. This is a great way to build your business and technology skills on a wide variety of topics! Click here to sign up for Lunch with Lynda.

Faculty and staff may request to use a Lynda.com Training Account. This account provides

full access to the entire Lynda.com library of tutorials and training documents

. After you've tried Lynda.com's 30 day free access, please email edtech@wilmu.edu to request a Lynda.com account.Requesting Access to a Lynda.com Account
Assistance
For assistance in deciding if this service is right for your needs, you may contact Pam Huxtable at pamela.r.huxtable@wilmu.edu or call 302-295-1195.