Lynda.com - Online Training
Get the most out of your software
Lynda.com is a leading online learning platform that helps anyone learn business, software, technology and creative skills to achieve personal and professional goals.Once you have an account, you can access these high-quality training tutorials that are taught by industry experts and available 24/7 for convenient, self-paced learning.
The most common use for this online training site is to increase your productivity by expanding your software skills.
Topics and Software Categories
Lynda.com offers a wide variety of software training courses including:
Microsoft applications such as Word and Excel.
Adobe applications such as Dreamweaver, Photoshop, or Acrobat.
Many other applications in the disciplines of: 3D, video, photography, social media marketing, web design, graphic design, and more.
Sampling a Lynda.com Account
Lynda.com offers over 1,000 courses - each course offers free video tutorials so that you can get an idea of the course. Simply go to the courses that you'd like to try out. The blue tutorials are available to watch without a membership. Other tutorials require a Lynda.com Training Account for access. After you've tried the free access to Lynda.com, please email edtech@wilmu.edu to request an account.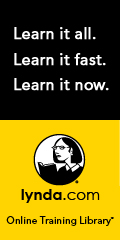 Lunch with Lynda
The Educational Technology Department, in collaboration with the Human Resources Department, is excited to offer a lunch-and-learn series: "Lunch with Lynda". This is a great way to build your business and technology skills on a wide variety of topics! Click here to sign up for Lunch with Lynda.
Requesting Access to a Lynda.com Account
Faculty and staff may request to use a Lynda.com Training Account. This account provides full access to the entire Lynda.com library of tutorials and training documents. After you've tried Lynda.com's 30 day free access, please email edtech@wilmu.edu to request a Lynda.com account.
Assistance
For assistance in deciding if this service is right for your needs, you may contact Pam Huxtable at pamela.r.huxtable@wilmu.edu or call 302-295-1195.