Hybrid and Online Training (HOT)
Become Hybrid and Online Training (HOT)
Certified in 3 Steps
Download the 3 steps necessary to become HOT certified (PDF file.).
Instructors have the opportunity to become certified to teach online and hybrid courses. To become certified, instructors must complete the Hybrid and Online Training (HOT) course. This three week course is offered several times throughout the year and is completed entirely online. Please note that it is not a self-paced course and will need to be completed within the published timelines.
To become eligible for the HOT course, instructors must complete the Basic and Advanced Blackboard lessons mentioned above.
Access to this training course is within every faculty member's Blackboard course listing. The screenshot below shows you where to access this training within Blackboard: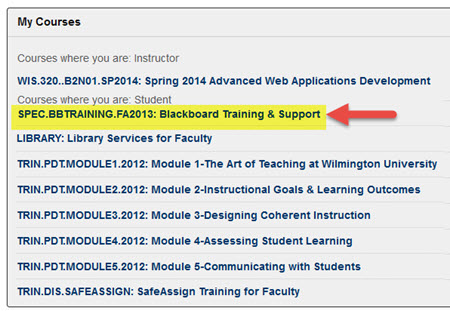 Faculty members taking the HOT course will need a headset microphone or internal laptop speakers to complete a week one activity. We recommend the Logitech H390 headset which can be purchased at Staples or Amazon, or an appointment can be reserved to use the faculty training lab.
This video covers the steps to get started with the Blackboard Basic and Advanced training.
Prerequisite for HOT: Blackboard Training and Support - 3 Convenient Ways
1. Online DIY
With the DIY online self-paced Blackboard training option, all instructors are enrolled as a student in the Blackboard Training and Support course. Instructors request a practice course, and complete tasks online. Upon completion of Lesson 1 through Lesson 7 from Blackboard Training & Support, an instructional technologist will check and verify successful completion of tasks in the instructor's practice course.
2. Face-to-Face Hands-on Training Workshops
This option has two 1½ - 2½ hour sessions.
Basic – Introduction to the Blackboard Learning System provides the instructor with the core tools for the teaching and learning process.
Advanced –To meet the needs of those faculty members who prefer the personal touch of a 1½ hour Face-to-Face training workshop, Educational Technology offers the COOL (Creative Options for Online Learning) workshop.
3. Webinars – Several times throughout the year Webinar Workshops are available for both the Basic and Advanced sessions. Both sessions are 1 to 1½ hours each. Using Blackboard Collaborate, you will follow along with the moderator.
HOT – Hybrid and Online Training Schedule
To enroll in the HOT course, pre-requisites

and registration

must be completed by 11:59pm on the dates listed below

Hybrid and Online Training (HOT) classes

(Completed entirely online, but is not self-paced. Must be completed during the specified start/end dates).

8/3/2016
August 8 - August 28, 2016
 
Upcoming Training Sessions