Scholarships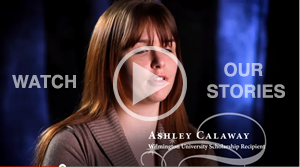 At Wilmington University we are committed to helping our students achieve their higher education goals. A number of scholarships are awarded annually. Find scholarships online, explore your options and apply.
Wilmington University Scholarships
These scholarships target Wilmington University students based on merit, need, or other criteria. Click the "Apply" button below to see a comprehensive list of scholarships.
Delaware Higher Education Office
Delaware Goes To College this web site has several scholarships listed for Delaware residents. Application deadlines vary.
Fresh Start Scholarship
The Fresh Start Scholarship Foundation, Inc. is the charitable arm of Wilmington Women in Business, Inc. (WWB). We award annual scholarships to adult women based on need, academic record and potential for success. We also provide mentoring support through WWB members. Our goal is to support these women through commencement so that they emerge with a renewed sense of self-esteem and financial independence and assist them in networking when they graduate. At the same time, our scholars serve as role models to their children and others who might be considering educational pathways to a better future.
The application deadline is May 15, 2016 http://www.freshstartscholarship.org/scholars/apply/
Addiction Resource Scholarship
AddictionResource.com awards $3,000 in scholarships each year to students who share their vision for an addiction-free world. The winning applicants for first, second and third place receive scholarships in the amounts of $2,000, $700 and $300, respectively. The scholarship awards may only be used to pay for college tuition and/or education-related expenses.
he AddictionResource.com Scholarship essay contest is open to undergraduate and graduate students who are 18 years old or older. Applicants must be accepted to, or currently enrolled in a college or university located within the United States or in the District of Columbia.  Only one (1) submission per student is allowed.
The application deadline is May 31, 2016, at 5:00 pm Eastern Time. https://addictionresource.com/scholarship/
Urban Mattress Scholarship
The Urban Mattress Scholarship is a $2500 merit-based scholarship awarded once per year for students pursuing higher education with an emphasis on the social sciences, liberal arts, philanthropy, volunteer work, or any other related field.  US citizens or permanent residents with a minimum GPA of 3.0 enrolled in or planning to enroll in an accredited college or university in 2016 are eligible to apply.
AWARD:  $2500 awarded to one recipient per year.
DEADLINE:  Scholarships will be awarded once per year.
Applications must be postmarked on or before June 30th, 2016
and will be awarded on or before July 31st, 2016.
Apply at:
https://www.urbanmattress.com/scholarship
Philanthropic Educational Organization (

PEO

)
PEO is an organization that helps women pursue their higher education goals.  One of the opportunities it offers women is a continuing education grant known as PCE.  PCE is a need-based, one-time-only grant awarded for educational expenses associated with the cost of academic or technical courses including online courses. The maximum grant amount is $3,000, however, a smaller amount may be awarded. For more information, please visit PEO's web site.
Essay Competition Scholarships: 
Several law firms are offering $1,000.00 college scholarships to the winners of their essay competitions. See the information in the links below to apply.  Application deadlines are between December 1, 2015 and December 31, 2016


http://www.victimslawyer.com/scholarship
http://lovenberglaw.com/medical-malpractice-lawyer-scholarship/
http://www.yourdelawareworkerscompensation.lawyer/scholarship/
http://www.bruninglegal.com/scholarship
http://brianzeiger.com/scholarship
http://militarytriallawyers.com/college-scholarship/
http://www.kcarplaw.com/scholarship/
www.clementslaw.com/scholarship
http://weisblattlaw.com/the-weisblatt-law-firm-llc-1000-00-scholarship/
Search For Scholarships Online
Use these services to find scholarships online.
Disclaimers:
Recipients of Wilmington University Scholarships are selected without regard to race, gender, religion, national origin, age, or disability unless otherwise stipulated by the donor. The amount of awards is subject to availability of funds. There is no guarantee of award of any scholarship in a given year. Scholarship donors and the Wilmington University reserve the right to modify scholarship criteria at any time.
Outside scholarships are not affiliated with Wilmington University. Please exercise caution when pursuing any outside scholarships. Wilmington University does not affiliate with or endorse any third party scholarship website nor does Wilmington University guarantee or confirm the validity of these scholarships and/or websites.  Use them at your own risk.
Unless otherwise noted, scholarships will be awarded in the form of a tuition/fee waiver. No cash award will be made directly to the recipient(s).