Scholarships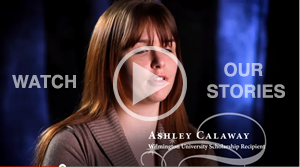 At Wilmington University we are committed to helping our students achieve their higher education goals. A number of scholarships are awarded annually. Find scholarships online, explore your options and apply.
Wilmington University Scholarships
These scholarships target Wilmington University students based on merit, need, or other criteria. Click the "Apply" button below to see a comprehensive list of scholarships.
External Scholarships
Delaware Higher Education Office
Delaware Goes To College this web site has several scholarships listed for Delaware residents. Application deadlines vary.
MigVapor Scholarship

Are you passionate about making this world tobacco-free? If yes, here's the good news for you: MigVapor awards $3,000 in scholarships every year to the students who are committed to playing their part in preventing the deaths caused by smoking tobacco. Our vision is to create a tobacco-free world and stop more than 480,000 yearly deaths caused by smoking.  MigVapor offers scholarship awards for the students who present their well-researched and evidence-based essay to encourage smokers to kick their addiction. Remember, smoking not only impacts the smoker, but also other people around them.

The application deadline is November 1, 2016 for Spring 2017 and May 31, 2017 for Fall 2017

Apply at:  https://www.migvapor.com/scholarship  
Walk In Showers Digital Marketing Scholarship
The WalkInShowers digital marketing scholarship is an annual scholarship that is created to help productive and determined individuals succeed in the marketing arena. The major requirement in the application is a passion for digital marketing or interior design.  Scholarship Amount: $1000.
The application deadline is  February 28, 2017

Apply at:    http://walkinshowers.org/scholarship.html 
Philanthropic Educational Organization (

PEO

)
PEO is an organization that helps women pursue their higher education goals.  One of the opportunities it offers women is a continuing education grant known as PCE.  PCE is a need-based, one-time-only grant awarded for educational expenses associated with the cost of academic or technical courses including online courses. The maximum grant amount is $3,000, however, a smaller amount may be awarded. For more information, please visit PEO's web site.
http://www.peointernational.org/about-peo-program-continuing-education-pce

Alcohol Addiction Awareness Essay Contest Scholarship
AlcoRehab.org, works towards raising awareness of the alcohol abuse and addiction issues and hoping to encourage as many people as possible to realize the potential consequences of their drinking habits. The scholarship recipients will be selected through an essay contest, and essays are judged based on their originality and content. There are no costs associated with submitting an application for this scholarship.
The application deadline is February 1, 2017

Apply at:  https://alcorehab.org/scholarship/

Cyberbullying Prevention for Teens Scholarship
In an effort to the cause of preventing cyberbullying, we have created the Cyberbullying Prevention for Teens Scholarship for Undergraduate or Postgraduate students/ high school, college or graduate student or a student planning to enter college to receive $1000 award.
The application deadline is February 28, 2017

Apply at:  http://www.parentinn.com/scholarship
Good CollegesScholarship

Good Colleges presents the best online programs.  Learn what makes a good distance course in your field. Top courses by subject – from arts to technology. Good Colleges has 3 annual scholarships: Study Hard, Healthy America and Study Abroad. Cash awards: $2,000 in each category.  Open to current and future students of North American colleges. To enter, submit a 150-250 word essay.

The application deadlines are April 1, 2017, August 1, 2017 and November 1, 2017

Apply at:  https://goodcolleges.online/#scholarships

Annual Language Awareness Scholarship Program

The BestWayToLearnGerman.com Language Awareness Scholarship Program was created to encourage our country's student body to learn a second language during their course of study. Our website reviews the top selling language learning methods, but there is no substitute to learning in the classroom from a passionate teacher. We hope our scholarship award will help fund some of the student's quest for future knowledge in this direction. 
Awards
3 winners will be chosen based on the quality of their essays.
1st place ward is $500
Runner up will be awarded $200
3rd place award is $100

The application deadline is May 1, 2017

Apply at:  http://www.bestwaytolearngerman.com/scholarship/ 
Four Seasons Real Estate Scholarship

The Four Seasons Real Estate team is committed to continuing our efforts to help those students who have the drive and ambition to succeed. We are sponsoring an annual scholarship of $1,000 to award an individual student the financial resources to accomplish their educational goals and prepare for future career aspirations in Real Estate.

The application deadline is June 30, 2017

Apply at:  http://acworth.cc/scholarship/
VPN Trends Scholarship

VPNtrends is a Internet Security website helping out the consumers in order to find the best vpn services for them.  We are happily announcing "Web Content Writing Scholarship Program" which is worth $1000 prize money.  This scholarship is applicable for the undergraduate or postgraduate students who have the passion and ability to research and write for the cyber security industry.  This scholarship program is highly recommended for the students who are currently studying in IT/Tech, Business, Marketing or Computer Science related departments.

The application deadline is June 15, 2017

Apply at:  https://vpntrends.com/scolarship/ 
Annual CGTrader Scholarship 2017
CGTrader is the largest 3D model marketplace backed by the strong designer community of more than 500k members. Each semester CGTrader challenges students to dig into the field of technology writing an essay on how innovative technologies are transforming our lives.  Enter the CGTrader Scholarship 2017 challenge to win $3,000 for your education bills. The best submission will be awarded $2,000 while the two runners-up will receive $500 each.

The application deadline is June 1, 2017

Apply at:  https://www.cgtrader.com/scholarships

LuvMiHome Scholarship

LuvMiHome is a start-up blog that focuses on new technologies in the home. LuvMiHome is a great supporter of education and it gives us great joy to be able to offer this scholarship to new and current students. The scholarship is available to graduate and undergraduate students. International students are welcome.  Value of Scholarship: US $1,000


The application deadline is June 30, 2017

Apply at:  http://www.luvmihome.com/scholarship-information/
The Lawnstarter Lawntrepreneur Scholarship
The Lawntrepreneur Scholarship is our way of funding tomorrow's top entrepreneurs. Maybe you sowed the seeds of your entrepreneurial spirit by starting a lawn care company in high school. Maybe you're planning on building the next big landscaping company. Either way, if you've got the entrepreneurial bug in you, then we want to help fund your dream. We're fixing the large and disorganized lawn care industry, and we're willing to grant $1000 (and instant access to our lawn care software) to any student we believe has the potential to change the world through entrepreneurship. If you are interested in starting your own business, we'd love to hear from you.


The application deadline is rolling each year:  We offer the scholarship to a student each semester. The entry for the Fall semester is May 1st to August 20th and it's open for the Spring semester from August 31st to December 31st

Apply at: https://www.lawnstarter.com/scholarship 
Essay Competition Scholarships: 
Several law and other firms are offering $1,000.00 college scholarships to the winners of their essay competitions. See the information in the links below to apply.  Application deadlines are between October 1 2016 and July 15, 2017


http://www.victimslawyer.com/scholarship
http://www.yourdelawareworkerscompensation.lawyer/scholarship/ (2017-18 Scholarship)
http://www.bruninglegal.com/scholarship  ($500 scholarship award)
http://brianzeiger.com/scholarship
http://militarytriallawyers.com/college-scholarship/ ($1,250 Award for 2017-18)
http://www.kcarplaw.com/scholarship/
http://weisblattlaw.com/the-weisblatt-law-firm-llc-1000-00-scholarship/ (2017-18 Scholarship)
http://usdruglawsuit.com/scholarship/
http://billingsandbarrett.com/2016-scholarship/
http://www.washingtondccriminallawyer.net/2016-scholarship/ ($500 scholarship award)

http://criminallawdc.com/public-servant-scholarship.html ($500 scholarship award)

http://criminallawyerwashingtondc.com/2016-scholarship.html ($500 scholarship award)

http://www.michiganinjurylawyers.com/scholarship ($500 scholarship award)

http://whitleylawfirm.com/2016-scholarship/ ($1,500 scholarship award)
http://clayburgess.com/scholarship/ ($2,500 Scholarship award)

http://ricelawmd.com/scholarship ($1,500 scholarship award)

https://www.daveabels.com/scholarship  ($1,000 scholarship award)

http://getlegal.nyc/scholarship/   ($1,000 scholarship award)

Search For Scholarships Online
Use these services to find scholarships online.
Disclaimers:
Recipients of Wilmington University Scholarships are selected without regard to race, gender, religion, national origin, age, or disability unless otherwise stipulated by the donor. The amount of awards is subject to availability of funds. There is no guarantee of award of any scholarship in a given year. Scholarship donors and the Wilmington University reserve the right to modify scholarship criteria at any time.
Outside scholarships are not affiliated with Wilmington University. Please exercise caution when pursuing any outside scholarships. Wilmington University does not affiliate with or endorse any third party scholarship website nor does Wilmington University guarantee or confirm the validity of these scholarships and/or websites.  Use them at your own risk.
Unless otherwise noted, scholarships will be awarded in the form of a tuition/fee waiver. No cash award will be made directly to the recipient(s).
Save
Save
Save
Save