Audio and Video Capture
Video Capture is a service provided by Educational Technology and University Relations to have a videographer record special events when a video reproduction of the event is needed for future use.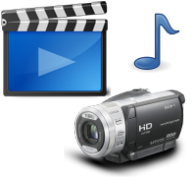 What events can be recorded?
Events pertaining to Wilmington University and its interests, and course related special presentations and guest speakers.
Special Presentations
Course-related Guest Speakers and other instructional topics
Special purpose events (such as the Hoopfest, non-course related Guest Speakers, etc.)

This service is NOT for recording student presentations.
Assistance
Course related projects will be handled by the Educational Technology Department. Non-course related events will be handled by the University Relations department.
For assistance in deciding if this service is right for your event, you may contact multimedia@wilmu.edu or fill out the project request form below.
Sample of a video captured event
Sample of a course-related special presentation
Please request service at least 3 weeks before the event. To request this service for an upcoming event, use the form below. A staff member will then contact you to verify availability of this service.
Following the event, the footage will be edited and then uploaded to a video sharing web site. This process will take approximately 3-6 weeks, depending on the queue of projects. Once your video is ready, we will send you a link so you can share the video via email, Twitter, or embed it directly on a web page or Blackboard.
In the case of guest speakers and special presentations, all presenters appearing on camera (other than incidental background appearances) MUST fill out a release form found here. This form must be filled out for each presenter or speaker who will appear on camera. Completed forms must be filled out and emailed back to multimedia@wilmu.edu prior to the scheduled event. No event can be captured unless completed release forms have been returned.
FAQ:
Q - Can any course lecture or speaker be recorded?
A - No, this service is for course-related presentations and speakers that have high value across multiple courses and multiple semesters. Contact multimedia@wilmu.edu to find out if your project meets the criteria, and about other options if it doesn't. Don't worry - we will find a solution that meets your needs!
Q - What about non-course related events, presentations, and speakers?
A - The service depends on the specific project and availability. Fill out the form below or contact multimedia@wilmu.edu with questions.
Q - Can I use this to record student presentations?
A - No, but there are other options available. Contact multimedia@wilmu.edu for more information.
---