Who We Are
The Wilmington University Department of Public Safety is staffed by six constables, a university safety officer, and two security supervisors who report to the Executive Director of University Safety. WU Constables are licensed by the State of Delaware and provide around the clock coverage for the New Castle, Wilson Graduate Center and North Dover sites. WU Constables are augmented by a private contract security firm as well as State, County and municipal police agencies.
University Safety Profile
Experience in law enforcement
Certifications
Training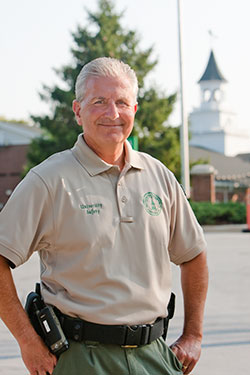 What are constables?
Constables are trained professional security officials who, according to Delaware law, have the same authority as police officers in order to protect life and property.
What authority do constables have?
As part of their duties, constables have the ability to make a custodial arrest, detain or search a person or place when the occurrence of a criminal act is reported to the constable.
When a crime has been committed, the Wilmington University constable will notify and work with local law enforcement agencies who will formally charge and process any criminal matters.
What can a constable do for me?
Our security officers are available for escorts to and from the parking lot, particularly for those attending evening and night classes;
Our security officers maintain campus security by addressing any criminal or suspicious behaviors.
Our security officers maintain the physical safety of our campus and address any issues.