Starfish Early Alert

In an effort to strengthen our University, improve student success, and increase retention, we are implementing a new Early Alert Program using a system called Starfish Early Alert. The Starfish system will enable you to quickly and easily send timely alerts to students at a critical point in your course, notifying them of any concerns you have about their performance, or commending them on a job well done.
What does the student see?
Below are the Starfish system flags and corresponding e-mail message to each student based on the flag you mark. The messages are addressed from you (the instructor) and have your name and contact information in the closing. (Click a title below to see the corresponding email)
Low Grades:
student's class average is C- or lower
Missing Assignments:
student has not submitted most or all assignments to date
Inactivity in the Course:
student has been inactive in the course, either face-to-face or online (not logged in, submitted assignments, or posted to the discussion board)
Commendable Effort:
student's performance to date has been commendable
No Feedback:
student does not meet any of the above criteria, no message will be sent
How will this work?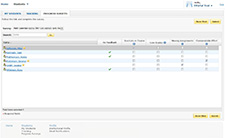 On the 3rd week of your block course, or 4th week of your semester course, you will receive a request by e-mail to follow a link and complete a Starfish online survey for each of your courses (see tutorials below). Clicking the link you will be prompted to enter your Webcampus log-in credentials. upon logging in, a new page will be launched where you will have access to complete your surveys.
Using the survey, you'll quickly and easily flag students for academic issues, concerns, or to commend them (see criteria above). That's all! The student as well as the Student Success Center will automatically receive notifications based on your completion of the online survey.
Student follow-up:
The Student Success Center directly contacts students that have received Starfish alerts in the following courses: ENG/MAT 095, 110, 121, 122; MAT 205, MAT 308; BAC 101, 102; ECO 101, 102, 105; FIN 101, 300, 304, 305, and 306.
How often can I use Starfish?
While you will only receive the survey once for the block/semester, you have access to Starfish and can provide feedback for your students all semester long! Access Starfish directly through Webcampus by clicking the Starfish link in your Webcampus home page. For video tutorials, see below.
Why is Wilmington University asking me to do this with a new system?
Starfish automatically records and reports any alerts or "flags" to the Student Success Center so that additional University services, designed to improve performance, can be offered to the student. This also enables us to collect, aggregate, and analyze critical data on student performance and retention.
Below are some Starfish success stories from other institutions who have adopted Starfish Early Alert.
| | | |
| --- | --- | --- |
| Institution | Type | Outcome |
| Paul Smith's College | Four-Year Private College | The 2010 cohort had a 12% increase in retention over the previous five-year average. |
| Troy University | Four-Year Public University Online Program | More than 26,000 flags for inactivity raised. 53% of students logged back in within 4 days of receiving a message from Starfish. |
| East Carolina University | Four-Year Public University | Faculty indicated satisfaction with ease of use and effectiveness, with 100% noting they would use it again. |
| Ivy Tech Community College | Two-Year Community College | 70% of instructors surveyed responded within 8 days, raising more than 1,060 flags. |
| University of North Carolina at Greensboro | Four-Year Public University | UNCG reports that students who are flagged by Starfish or receive a Kudos are persisting from 1st to 2nd term 15% more than the student population as a whole. |
| Charter Oak State College | Four-Year Public Online College | A study where half their freshman received Starfish flags and half did not showed those who did persisted 17% more. |
Video Tutorials
Completing the Progress Survey
Tracking Students After the Progress Survey Has Ended
Questions or Concerns?
Contact Hillary Strachan in the Student Success Center at hillary.j.strachan@wilmu.edu or (302) 356.6994.