Wilmington University License Tags
Over 500 alumni, students, faculty, and staff are proudly displaying the W.U. license tags on their vehicles. Let's get more on the road!
Open to Delaware residents
NO trip to DMV required-applications are completed in the Alumni Relations Department
Pick your own number (3 to 4 digit numbers available)
$75.00 fee, which includes the DMV fee-there are no additional fees when you have your vehicle inspected or transfer your tag to another vehicle.
Proceeds from the license tag program will help support the University Scholarship Fund.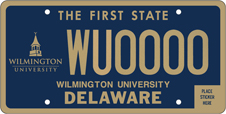 For further information and an application, contact Jane West, the Alumni Relations Department, (302) 295-1156 or e-mail: alumni@wilmu.edu