Program Accreditation
The baccalaureate and masters Nursing programs at Wilmington University are fully accredited through the Commission on Collegiate Nursing Education (CCNE) since 2001.
CCNE is a widely recognized accrediting body that focuses on Baccalaureate and Graduate degree programs in Nursing. As of 2008, CCNE has accredited over 76% of all baccalaureate nursing programs and 86% of master's degree nursing programs across the country.
One DuPont Circle, NW, Suite 530
Washington, DC 20036-1120
202-887-8476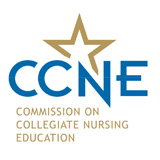 ---
This information applies to students who enter this degree program during the 2015-2016 Academic Year. If you entered this degree program before the Fall 2015 semester, please refer to the academic catalog for the year you began your degree program.