Monthly webinars related to human trafficking topics will be scheduled on the last Tuesday of each month.
Due to the COVID-19 epidemic, the 5 th Annual Symposium on Human Trafficking, Immigration, Child Protection, and Domestic Violence will be rescheduled for May 2021.
Tracking Vulnerable Populations: People with Disabilities
April 27, 2021 10:00 AM Eastern Time (US and Canada)
REGISTER NOW!
The Link Between Pornography and Human Trafficking
April 27, 2021 02:00 PM Eastern Time (US and Canada)
REGISTER NOW!
---
Relevant Certificate offering from WilmU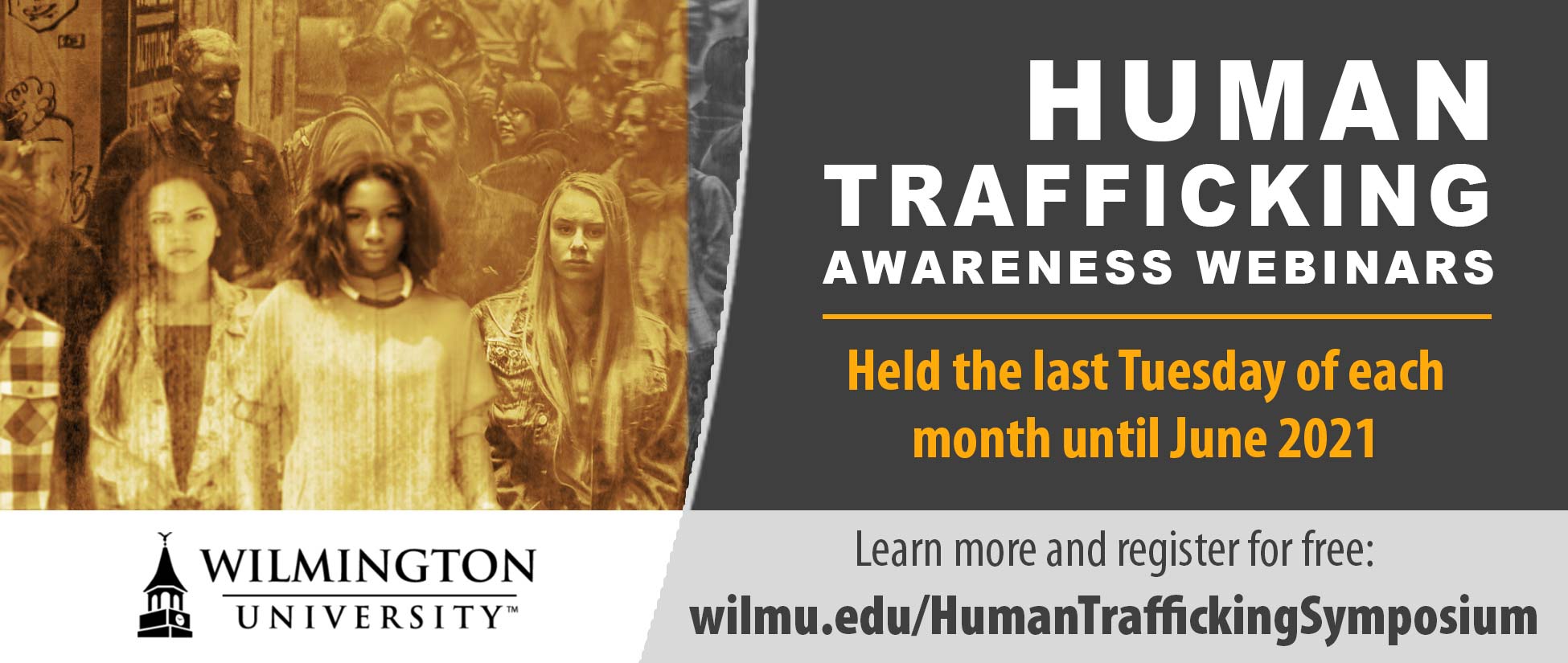 Upcoming Webinars
TUESDAY, APRIL 27, 2021

10 AM
"Tracking Vulnerable Populations: People with Disabilities"
Presenters: Dr. Allan Zaback
SESSION DESCRIPTION: Traffickers prey on vulnerable individuals, but those who are disabled are particularly at risk of falling prey to traffickers. Schemes to force, defraud, or coerce individuals with cognitive or physical disabilities include stealing social security checks, forcing individuals into pornography or prostitution, forced labor, or even street begging. Often relying on others to take care of their basic needs, people with disabilities require protection from ruthless traffickers. This session will provide case examples where disabled persons were trafficked, review the risks of trafficking to disabled populations, and discuss possible prevention strategies.
SESSION OBJECTIVES:
Examine the particular trafficking risks for people with disabilities.
Review actual trafficking cases involving people with disabilities.
Identify strategies for protecting people with disabilities from traffickers.
Presenter Bio: Dr. Allan Zaback is currently Assistant Professor and Chair of the Human Services (HS) Graduate Program at Wilmington University. He recently retired from the State of Delaware where he served over 25 years in a variety of human service leadership positions within the Delaware Department of Health and Social Services. Dr. Zaback's most recent position with the State of Delaware was the Director of the Office of Professional Development (OPD) with the Division of Developmental Disabilities Services where he was responsible for classroom and on-line training for employees in his Division, and provider agency staff. From 2009 - 2013, Dr. Zaback was the New Castle County Regional Program Director with the Division of Developmental Disabilities Services where he was responsible for over 1,600 Developmentally Disabled adults residing in the network of state-contracted Residential (Group) and Foster Care homes within New Castle County. Dr. Zaback is also a former Director of the Division of Services for Aging and Adults with Physical Disabilities (DSAAPD). Dr. Zaback received a Governor's appointment as Director in September 2003 and served in that position until March of 2007. He also served as Acting Director from August 2002 to September 2003. As Director, he was responsible for advocacy on behalf of older persons and adults with physical disabilities in Delaware. Dr. Zaback served as a member of the Board of Directors of the National Association of State Units on Aging from 2002 - 2007. He also represented the Mid-Atlantic region and served as the Chair for the National Workforce Development / Economic Security Committee. In December 2005, Dr. Zaback led the Delaware delegation to the National White House Conference on Aging in Washington, D.C. Before joining DSAAPD, Dr. Zaback was responsible for customer services at the Division of Child Support Enforcement and managed contracts for a statewide system of community and human service programs at the Division of State Service Centers. Dr. Zaback has taught in the HS Graduate Program at Wilmington University since 2008. Dr. Zaback holds a Doctor of Education Degree in Organizational Leadership and Innovation from Wilmington University, a Master's Degree in Social Work from Temple University's School of Social Administration in Philadelphia, and a Bachelor of Arts Degree in Human Relations from High Point University, High Point, North Carolina.
2 PM
"The Link Between Pornography and Human Trafficking"
Presenters: Dr. Ray Carr, Executive Director, Criminal Justice Institute, Wilmington University
SESSION DESCRIPTION: There is a clear link between pornography and sex trafficking. Pornography is not only perpetuating human trafficking, but it is incentivizing the use of children in pornography. Through viewing pornography, individuals are tempted to hire sex workers in order to fulfill the unrealistic scenes created in pornographic films.
This presentation is not about people who want to create adult content, but young men, women, and children who are being forced to participate in the development of such pornography and in the process potentially lose their lives.
SESSION OBJECTIVES:
Distinguish between the type's pornography (Child vs Adult);
Differentiate between human trafficking and pornography;
Recognize populations vulnerable to pornography;
Identify indicators of human trafficking engaged in the development of pornography; and,
Identify the needs of offenders engaged in developing pornographic images
Presenter Bio: Ray Carr has been involved in law enforcement for 36 years and recently retired from the Federal Bureau of Investigation where he had been the supervisor of a violent crime task force responsible for investigations into a wide array of criminal behavior to include, but not limited to Drugs, Terrorism, Public Corruption, Violent and White Collar Crimes. Professor Carr is a Certified Police Instructor and has provided instruction to federal, state and local law enforcement officers in the areas of Crisis Management, Criminal Profiling, Hostage Negotiations, Psychology of the Criminal Mind, Forensic Crime Scene Analysis, Death Scene Investigation, Forensic Interviewing and Criminal Investigative Analysis. Professor Carr was the Primary Coordinator for the FBI Philadelphia Division, National Center for the Analysis of Violent Crime and the Philadelphia Hostage Negotiation Team. He continues to provide training and case consultations in behavior methodology to state and local police departments in unsolved homicides, serial rapist, serial murders, Terroristic Threats and Weapons of Mass Destruction cases. Professor Carr is presently the Director of Wilmington University's Criminal Justice Institute (CJI) offers a unique union of classroom instruction and hands-on experience for students, business organizations and law enforcement professionals. Professor Carr has also lectured at Saint Joseph's University, Villanova University, University of Pennsylvania, Philadelphia College of Physicians and Philadelphia College of Osteopathic Medicine.