Monthly webinars related to human trafficking topics will be scheduled on the last Tuesday of each month.
Due to the COVID-19 epidemic, the 5 th Annual Symposium on Human Trafficking, Immigration, Child Protection, and Domestic Violence will be rescheduled for May 2021.
Community Based Approach to Working with Human Trafficking Survivors
May 25, 2021 10:00 AM Eastern Time (US and Canada)
REGISTER NOW!
What Educators Need to Know About Human Trafficking: Part 2
May 25, 2021 02:00 PM Eastern Time (US and Canada)
REGISTER NOW!
---
Relevant Certificate offering from WilmU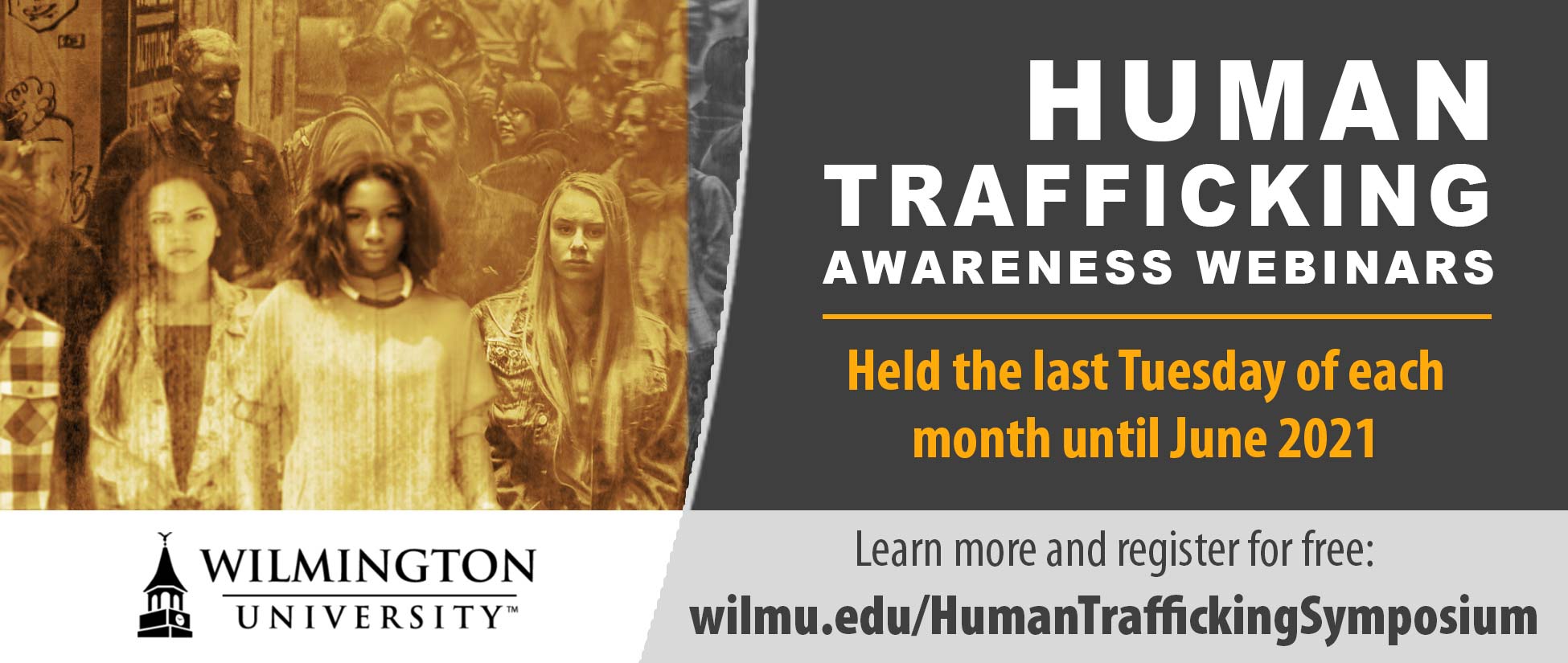 Upcoming Webinars
TUESDAY, MAY 25, 2021

10 AM
"Community Based Approach to Working with Human Trafficking Survivors"
Presenters: Debbie Litten, Carley Canada-Banks, & Megan Bittinger
SESSION DESCRIPTION: This session provides a panel discussion lead by community agencies that will explore a coordinated response to Human Trafficking using Trauma- Informed Practices. The session will examine how to identify Human Trafficking and what community agencies can do to support and empower trafficking survivors. Relevant case management techniques will be reviewed and discussed and available shelter services and specialized programs will be summarized. The panel will also focus on how sexual and domestic violence programs and agencies serve trafficking survivors and the importance of networking to share available resources within the State of Delaware.
SESSION OBJECTIVES:
Learn strategies for identifying trafficking in community-based programs
Recognize how community based sexual violence and domestic violence organizations work with trafficking survivors
Understand case management techniques with regards to trafficking survivors
Identifying shelter services and human trafficking programs in Delaware and surrounding states
Presenter Bio: Debbie Litten is the Coordinator of the Sexual Assault Response Center (SARC) YWCA Delaware. As a community-based advocate, she regularly responds to all forms of sexual violence throughout the State of Delaware. She connects adult clients to appropriate resources regardless of whether they choose to report the crime and participate in the criminal justice process. Her specific areas of expertise are comprehensive training programs regarding sexual violence, human trafficking and advocacy for the rights of victims of sexual violence as survivors and secondary victims. Debbie's academic credentials include a M.S. in Administration of Human Services from Wilmington University and a B.S. in Criminal Justice from West Chester University. She was born and raised in Wilmington, Delaware where she resides with her family. Currently her passion includes supporting efforts to revitalize the City of Wilmington with specific focus in the small business and the arts communities.
Presenter Bio: Carley Canada-Banks is a specialist in the field of gender-based violence and victims services. A graduate of Wilmington University, where she earned her M. S. in Human Services, Carley is dedicated to helping those who have been affected by domestic violence and sexual assault. In addition to her professional work, she has given numerous presentations throughout the state of Delaware. Most notably Carley's work has been featured at the University of Delaware's Women's Week on Black feminism in Beyoncé's Lemonade. Carley is committed to helping the most vulnerable people in society regardless of race, class, gender identity, sexual orientation, or ability.
Presenter Bio: Megan Bittinger has worked in both prevention education and victim advocacy for domestic and sexual violence campus and community organizations. While at University of Delaware as an undergraduate she interned with both the campus-based Sexual Violence Prevention Specialist teaching prevention education programming and the Delaware Coalition Against Domestic Violence working with the Engaging Men Project Coordinator to engage men in violence prevention. Currently, Megan works as a victim advocate, medical community engagement liaison, medical-legal partnership coordinator, and trainer/educator for the YWCA Delaware Sexual Assault Response Center. Currently, Megan works for the YWCA Delaware Sexual Assault Response Center (SARC) as the Medical Community Engagement Liaison and Medical Legal Partnership Coordinator. At SARC she is a victim advocate, but focuses mainly on prevention, training, education, and outreach initiatives.
2 PM
"What Educators Need to Know About Human Trafficking: Part 2"
Presenters: Brian Moore
SESSION DESCRIPTION: The goal of the session is to provide educators and others with a sense of the identification and impact of human trafficking within the school environment. Focus will be on the need for student centered services in these cases and ways to use "case management" to seek to support the student in all aspects of their recovery process. This includes finding a method of insuring that not only are academic and mental health needs addressed but often these cases involve youth who exhibit behaviors which would be seen as disruptive. Attendees will look at ways to use compassionate discipline when dealing with these students, using the lens of trauma awareness rather than traditional consequence driven practices. Discussion will include: Recognition of the signs of human trafficking (whether its enrollment or a long-term student.); Working with law enforcement to make sure that the student is safe; Student focused case management; and Using the "Handle with Care" approach with victims, siblings and others impacted by trafficking.
SESSION OBJECTIVES:
Recognize the signs of human trafficking.
Collaborate with law enforcement to ensure student safety.
Develop greater trauma awareness.
Understand how to use the "Handle With Care" approach with victims, siblings, and others impacted by human trafficking.
Presenter Bio: Brian Moore currently serves as the Program Manager for School Climate with the Delaware Department of Education. In his role with the Department, Brian is the liaison with the state's law enforcement agencies and works collaboratively to not only train school staffs in being prepared to address incidents which occur in schools, but also in finding best practices to better serve and protect Delaware's 138,000 + students. Prior to joining the Department, Brian served for 15 years with the Red Clay School District in Delaware where he served as the Director of Public Safety. Brian holds an MBA from Wilmington University with a concentration in Homeland Security. His first book, Practical Incident Management in K-12 Schools was published by Rowman and Littlefield Publishers in 2017. Brian has written many journal articles and delivered presentations on school safety and emergency planning across the country for more than a decade.