Canvas Course Storage
Canvas makes it easy for instructors to customize their courses with images, videos, and documents. However, WilmU Canvas courses do have a size limit of 500MB. If you're teaching a course that uses a lot of images and video, you may find that you need to strategize your course storage. 
Students can make use of the Files area as well.
Click here for Course File Storage (Instructors).
Click here for Individual Account File Storage (Students and Instructors).  
What Counts Towards My Course Size?
Good news! Not all files count toward your course size limit. 
Copied files: When you copy a file in Canvas, or upload a copy of an existing Canvas file, Canvas stores only one instance of that file. Only the original file counts against your course's storage quota; copies don't count affect your course's quota. For example, if you copy several files from one course to a new course, the storage quota for the new course will not be affected, regardless of how many files you copied.
Kaltura Recordings: Kaltura recordings are stored outside of Canvas. Kaltura is accessed via

 

Account

 

>

 

My Media

 

in Canvas.
Student Assignment submissions are never applied to your course storage limit. 
How do I see what's stored in my course?
You can check the amount stored in your Canvas course by going to the Files section. Locate the Files in the course menu, and click: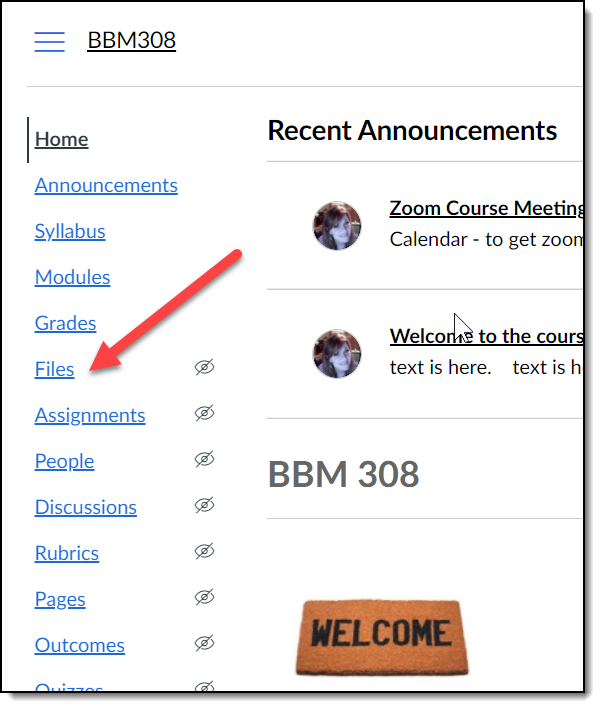 Then, take a look at the bottom of the file list to see how much is stored in the course: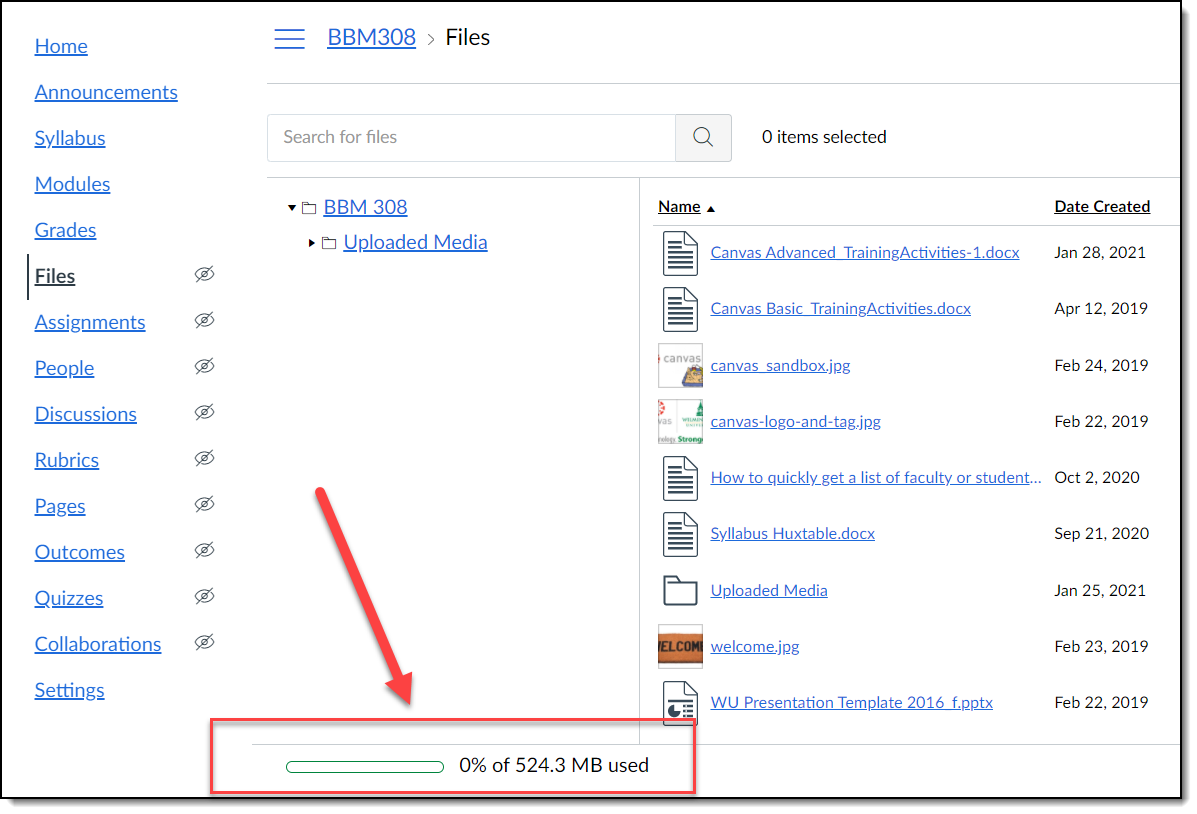 What do I do if my Course is reaching its size limit?
The main reason Canvas courses near their storage capacity is due to stored video content. Instructors are encouraged to make use of Kaltura to host their video content. If you need assistance converting media files to Kaltura, please contact multimedia@wilmu.edu. 
Student and Instructor Individual User File Storage Limits
Your personal Canvas account, whether you are a student or an instructor, has a storage limit of 500MB. This includes profile pictures, uploaded assignment submissions, and other files such as attachments to discussions. Files uploaded for a graded assignment are uploaded to user files but don't count against the user's quota. However, student attachments to discussions do come out of the users individual quotas. In course and group spaces, files uploaded as attachments or assignment submissions are placed in the personal file spaces of the individuals who uploaded them.
How do I see My Individual Files?
You can view your personal storage in Canvas by clicking on Account>Files.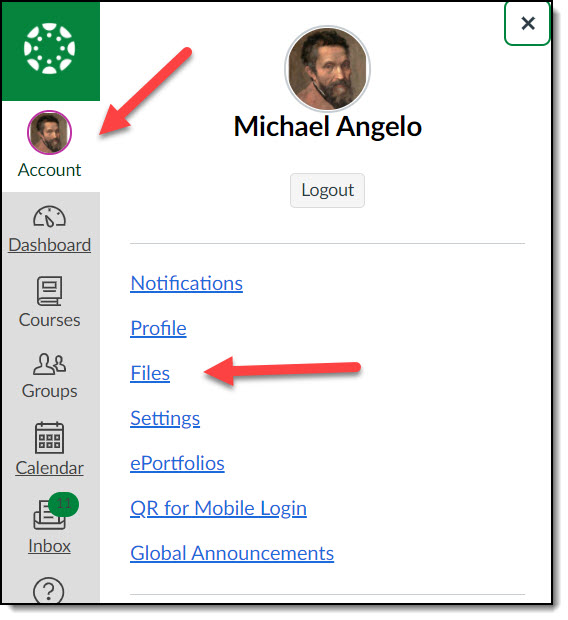 Then, you can see what you have personally stored, or what files were submitted as assignments. Note that the Submissions folder is view only and students are unable to delete. Files are only added to the submissions folder when the user submits a file to an assignment. Please contact helpdesk@wilmu.edu if you need assistance managing your files in Canvas.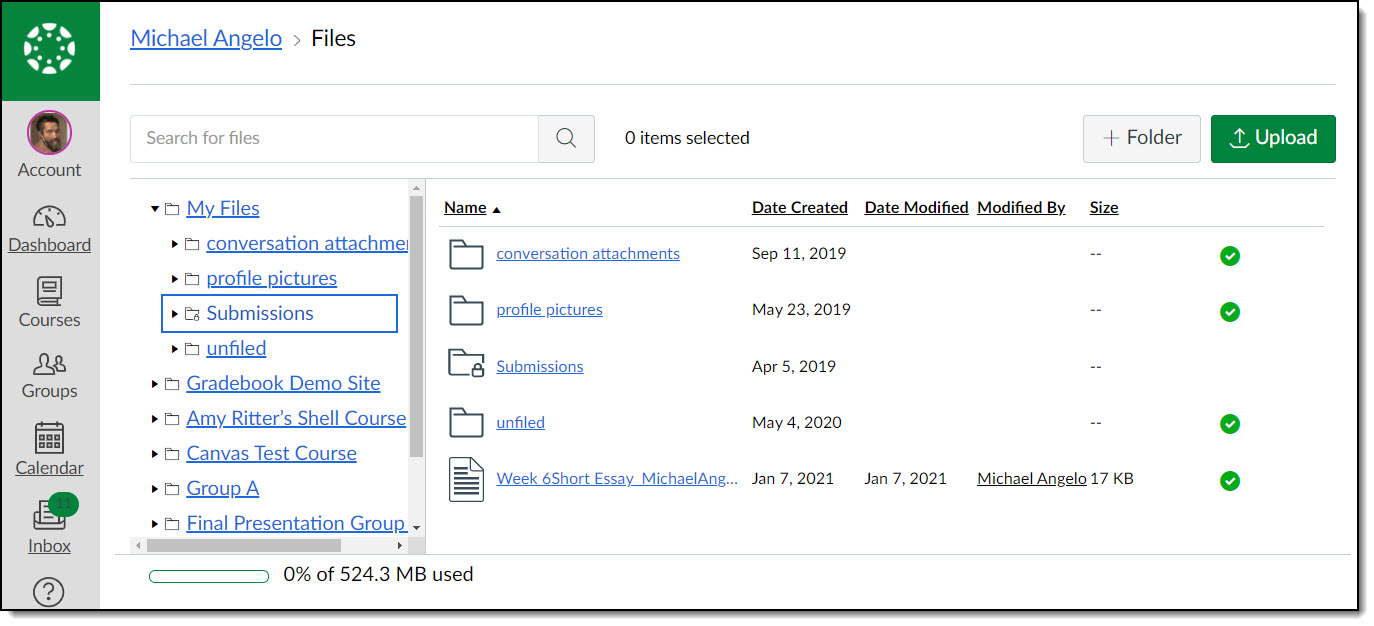 Additional Resources: