Canvas Usage Faculty FAQ
When will my courses be available in Canvas?
Canvas courses are loaded with content at least 6 weeks before the start of a block.
Students will have access 2 weeks prior to the start of a block or term.
My syllabus has changed, how do I update the Word document in my course?
Go to the Files section of your course.
Locate the syllabus template and click on it. You can download from this document preview section.
Open the file in Microsoft Word, enable editing. Edit your syllabus as needed and save to your local computer.
Go to the Files section of your course. Click on the Upload button to upload your edited syllabus.
Click on the Syllabus link in your course menu.
Click on the edit button.
Highlight the word Syllabus and click on the document icon. You can browse your computer for your syllabus or you can locate the file in your files section. Click submit.
Save your syllabus page.
When I upload a file, students are getting an 'unauthorized' error message. How can I fix this?
Upload your file to the Course Files first by clicking on the Files section within your course. Then click the Upload button and follow the instructions to upload your file.
Then, go to the page where this file was originally placed. Edit the page, and use the Insert menu to locate the file in your course files section.
Insert the file, and remember to Save your changes.

How do I access a course from a previous term?
After a course has officially ended, you can still access it in a read only state by following these steps:
Click on Courses in the Global menu.
Scroll down and click on All Courses.
On the All Courses page, scroll down to Past Enrollments and click on the course you wish to view. You are not able to add a past enrollment course to your dashboard.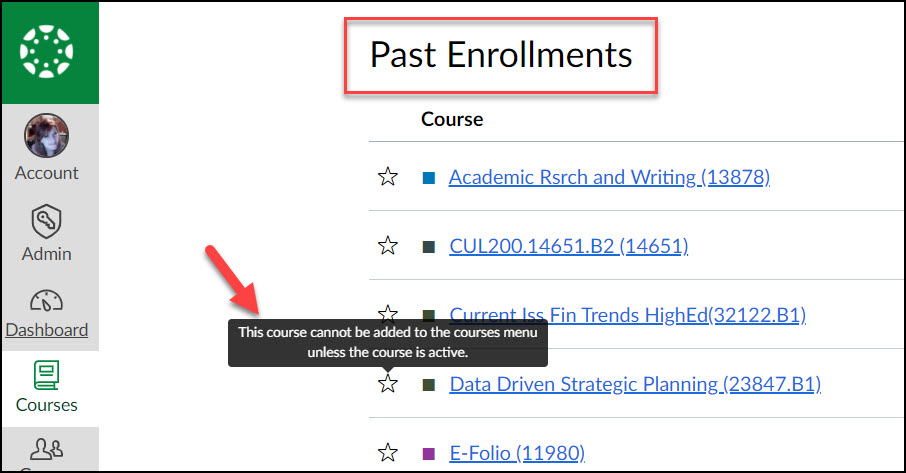 How do I make a course card that displays on the dashboard?