Why a WilmU Education Degree?

Educators have to address a wide array of needs in their classrooms and schools. Wilmington University's NCATE-accredited programs are available for new teachers and seasoned leaders in education alike. Certification options are available for those new to teaching, while WilmU master's and doctoral programs offer the academic experience necessary to shape the education system.
Co-Teaching Program Leads to Excellence in Teacher Preparedness.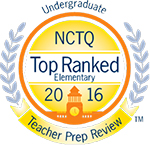 WilmU's year-long-residency program (an alternative to traditional student teaching) is achieving outstanding results. Candidates who complete the program are in high demand, and have secured excellent teaching positions in this area as well as in high-quality schools across the country.