Apply or Renew Financial Aid
(Required for Federal Grants, Loans, and Work-Study- Wilmington University School Code: 007948)
The FSA ID will act as your electronic signature.  Parents of Dependent students will also need to create an FSA ID to "sign" their student's FAFSA.  The FSA ID is only created once and used each time you renew your FAFSA. 
---
Complete the Free Application for Federal Student Aid (FAFSA) at www.fafsa.ed.gov
Complete an initial or renewal FAFSA each year that you would like to apply for federal financial aid.  The FAFSA for the upcoming Aid Year is now available in October each year and will use income tax and income information from two years prior. For example: You can apply for financial aid for the 2022-2023 school year beginning in October, 2021 and you will use your 2020 tax information.  Keep in mind that if you are applying for spring or summer aid you will need to complete the FAFSA that ends with the year the spring or summer term you want aid for.  Eg. Complete a 2020-21 FAFSA for Spring 2021 and/or Summer 2021 aid.
---
Review your Financial Aid Requirements in the MyWilmU Portal
Check outstanding requirements through the MyWilmU Portal and your student email regularly and submit/complete requirements in a timely manner via mail, fax, email or in person. If you submitted your FAFSA more than seven (7) business days ago and have not received confirmation from the University, make sure you have included Wilmington University's school code (007948) on your FAFSA and then contact the Financial Aid Office.
---
Verify that you are Fully Admitted
Confirm that you are fully accepted into a DEGREE SEEKING or eligible certificate program (no outstanding admissions documents).
---
Accept Your Award Offer Online.
Review the Conditions of Awards and accept (or decline or modify) your award online via MyWilmU Portal after you receive an award notification (generally 4-6 weeks after all documents have been submitted/requirements completed).
---
Complete a Direct Loan Master Promissory Note (MPN) & Entrance Counseling
Students who accept Federal Stafford Loans must complete a Direct Subsidized/Unsubsidized Loan Master Promissory Note (MPN) & Entrance Counseling (EC) at www.studentloans.gov. MPN's are valid for 10 years and EC only needs to be completed once for each school attended.
---
Maintain Enrollment
In order for your financial aid to be applied to your billing account you must: Enroll in at least half-time status WITHIN YOUR DEGREE PROGRAM in each semester in which you receive federal aid. Half-time status equals: 6 credits for undergraduate students; 5 credits for graduate students.
Students who withdraw from or cease to attend their classes may be subject to a Return of Title IV Funds (R2T4) calculation which may result in funds being returned to the federal government and a balance due to the university and/or the federal government. Please check Return of Title IV Funds (R2T4) policy for more information.
---
Overview of The Financial Aid Process at Wilmington University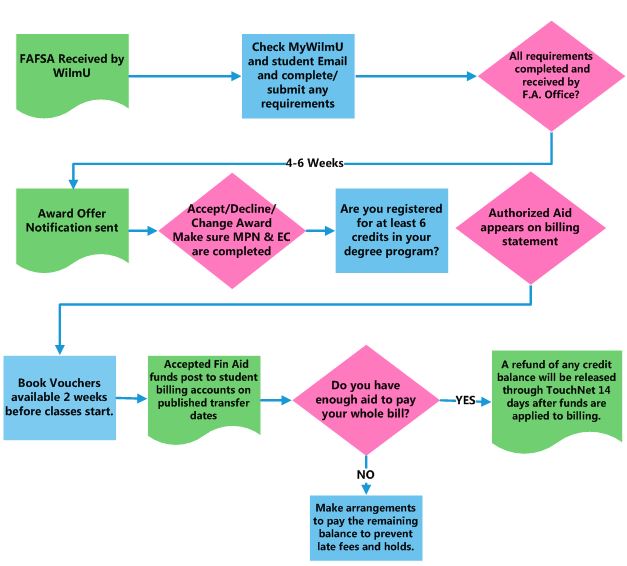 Save
---
Save