Scholarships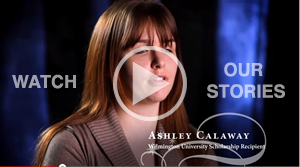 At Wilmington University we are committed to helping our students achieve their higher education goals. A number of scholarships are awarded annually. Find scholarships online, explore your options and apply.
Wilmington University Scholarships
These scholarships target Wilmington University students based on merit, need, or other criteria. Click the "Apply" button below to see a comprehensive list of scholarships.
Delaware Higher Education Office

www.doe.k12.de.us - this web site has several scholarships listed and deadlines for each: Port of Wilmington Maritime Society scholarship, Delaware solid Waste, First State Manufacturing Housing, etc.

Wilmington Women in Business
Alford Excellence Award
Search For Scholarships Online
Use these services to find scholarships online.
Disclaimer
Recipients of Wilmington University Scholarships are selected without regard to race, gender, religion, national origin, age, or disability unless otherwise stipulated by the donor. The amount of awards is subject to availability of funds. There is no guarantee of award of any scholarship in a given year. Scholarship donors and the Wilmington University reserve the right to modify scholarship criteria at any time.
Unless otherwise noted, scholarships will be awarded in the form of a tuition/fee waiver. No cash award will be made directly to the recipient(s).