Brownbag Book Club
Library Director James McCloskey invites the Wilmington University Community to join in a conversation about this new translation of Elie Wiesel's autobiography. Copies are available through the Bookstore. Don't forget to bring your lunch!
When: Monday, October 29, at 12:00 pm
Where: Peoples Library, Room 122
Book of the Month: Night by Elie Wiesel
Book Abstract:
Born in the town of Sighet, Transylvania, Elie Wiesel was a teenager when he and his family were taken from their home in 1944 to the Auschwitz concentration camp, and then to Buchenwald. This book is the terrifying record of Elie Wiesel's memories of the death of his family, the death of his own innocence, and his despair as a deeply observant Jew confronting the absolute evil of man.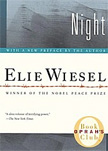 Previous Events