Brownbag Book Club
Library Director James McCloskey invites the Wilmington University Community to join in a conversation about James F. McCloy's The Jersey Devil. Copies are available through the Bookstore. Don't forget to bring your lunch!
When: Wednesday, January 16, at 4:00 pm
Where: Peoples Library, Room 122
Book of the Month: The Jersey Devil by James F. McCloy
Book Abstract:
"This book will tell you just about everything there is to know about the history of The Jersey (or Leeds) Devil and its countless sightings in and around the Garden State. The biggest compliment I can give is that I did not want the book to end, I wanted to know more about this folklore legend and its various sightings over the last two hundred or so years." (Amazon Book Review) Please join us for a conversation about the Jersey Devil with author James McCloy.
A native of Haddonfield, New Jersey, James F. McCloy (Jim McCloy) has been teaching at Wilmington University since its inception in 1968. He is the co-author of  "The Jersey Devil" (Middle Atlantic Press 1976) and "Phantom of the Pines—More Tales of the Jersey Devil" (Middle Atlantic Press 1998) as well as many articles.  Both books are still in print. He is also the author of "Dogs at Work" (Crown Publishers 1979). McCloy currently resides in Newark, Delaware.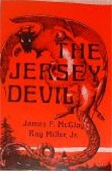 Previous Events