Brownbag Book Club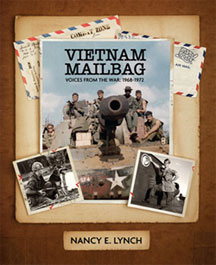 The Library Book Club presents an evening with local author,
Nancy E. Lynch.
Monday, November 9th
5:30 pm – 7:30 pm
Wilmington University
New Castle Site, DAC Building
Room 309
In celebration of Veterans Day, the Library has invited local author
Nancy E. Lynch to discuss her book, Vietnam Mailbag: Voices from the War, 1968-1972.
In Vietnam Mailbag, Nancy tells the story of troops at war — through the letters they wrote to her a generation ago and through a series of moving interviews with veterans who now share their views on how the Vietnam experience shaped their lives.
Admission is free and open to all.
Previous Events