Brownbag Book Club
The Brownbag Book Club presents:
Outcasts United
By Warren St. John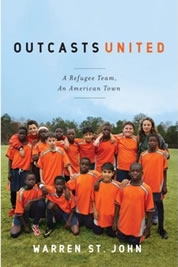 Outcasts United is the story of a refugee soccer team, a remarkable woman coach and a small southern town turned upside down by the process of refugee resettlement.
In the 1990s, that town, Clarkston, Georgia, became a resettlement center for refugees from war zones in Liberia, Congo, Sudan, Iraq and Afghanistan. The town also became home to Luma Mufleh, an American-educated Jordanian woman who founded a youth soccer team to help keep Clarkston's boys off the streets. These boys named themselves the Fugees -- short for refugees.
Outcasts United follows a pivotal season in the life of the Fugees, their families and their charismatic coach as they struggle to build new lives in a fading town overwhelmed by change. Theirs is a story about resilience, the power of one person to make a difference and the daunting challenge of creating community in a place where people seem to have little in common.
For more information about the book Click Here.
Previous Events