National Distance Learning Week 2011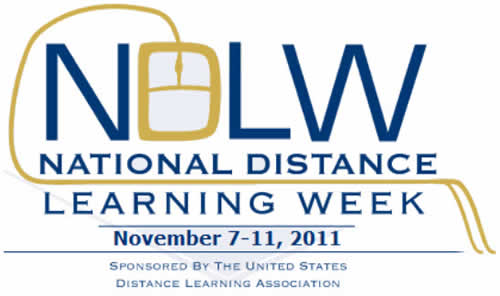 The week of November 7th-11th is National Distance Learning Week, a time where schools from around the nation celebrate and showcase their online programs for current and prospective students.  This year we would like to encourage students who are reluctant to take online classes or those that might feel intimidated by the technology, to give online learning a try. Read more below about Wilmington University's endeavors to celebrate NDLW.
| | |
| --- | --- |
| | Complete an Online Scavenger Hunt and enter to win an iPod Touch! |

We have created an online scavenger hunt which will give current and prospective students the opportunity to:

Sample a real online course.  
Take you across our website so you will learn more about what degree programs are available online.
View actual student testimonials from students in our online programs that help explain the ease and value of the online experience they have had at Wilmington University. 

Each current student or prospective student who completes the scavenger hunt will be entered in our contest to win an iPod touch. As an added incentive for completing the scavenger hunt, the registration fee will be waived for prospective students who choose to enroll at Wilmington University.


The closing date to enter the scavenger hunt was Sunday, November 20, 2011 at 11:59pm.

| | |
| --- | --- |
| | Interesting facts about Wilmington University Online |

12 Undergraduate Programs and 8 Graduate Programs are fully online.
7,970 online seats for Fall 2011 (that's 3,977 students!)
410 online courses developed.
If you google the phrase, "Cool facts about distance learning and national distance learning week",  the link to Wilmington University's  National Distance Learning Week is one of the top results.

Did you know?

Currently, over 3.5 million college students are taking online course and/or earning online college degrees. Source
At the secondary school level, over 700,000 high school students are taking one or more courses online, and nearly 40 states have established state-wide or state-lead virtual schools. Source
Online students tend to have higher intelligence, more emotional stability, and are more compulsive, self-sufficient and introverted than traditional on-campus students, according to a study by Thompson Learning. Source
65% of American graduate schools now offer online courses. Source
77% of American corporations now use online learning, often blended with traditional teaching styles. Source

| | |
| --- | --- |
| | Testimonials from Online Learning Students |

We asked our students what they liked most about online learning. View their testimonials or share your own experience!


A few quotes from Online Learning Students

Wilmington University Students Take Online Classes across the US

Wilmington University students are taking classes all across the United States. We have students in 37 states. Each clock tower on the map below represents one of our students.