National Distance Learning Week 2012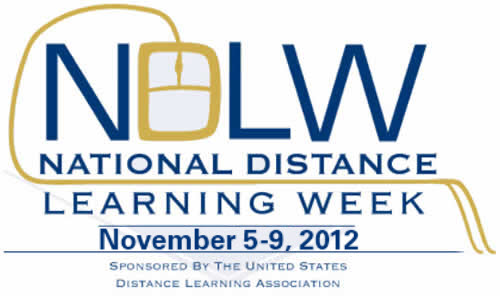 The week of November 5th- 9th is National Distance Learning Week, a time where schools from around the nation celebrate and showcase their online programs.  This year we would like to focus on our students. Read more below about Wilmington University's endeavors to celebrate NDLW!
We created an online scavenger hunt which gave students the opportunity to:

Sample real online courses and organizations in Blackboard.  
Learn about Wilmington University's Online degree programs.
View testimonials from students in our online programs.

The deadline to complete this online scavenger hunt and be eligible to receive a prize was Sunday, November 25, 2012.Even though the entry deadline has passed, you may still take the scavenger hunt just for fun!

Congrats to Lila K. for winning an iPod touch 16GB White (4th generation).

Students were asked to participate in a photo contest, photos should include their face and geographically symbolize where they live. Click here to view a gallery of all the photos submitted into the photo contest.

Photos were accepted until Sunday, November 25, 2012. Edith H. was selected as the winner of the Nook Tablet.

| | |
| --- | --- |
| | Students Take Online Classes Across the United States |

Wilmington University students are taking classes all across the United States. Below is a collage of our online students.


Click above image to enlarge
Read about their
experiences with online learning!

 

| | |
| --- | --- |
| | Interesting facts about Wilmington University Online |

16 Undergraduate Programs, 11 Graduate Programs, and 9 Certificate Programs are fully online.
10,997 online seats for Fall 2012 - that's 5,471 students!
2,499 students have a 100% online course load.
Over 500 courses have been developed in an online format.

Did you know?