2013 Archive: Online Student of the Block
These students were selected as Online Student of the Block during 2013. Congratulations!
View our current Online Students of the block here.
Archives:
2014 Archive: Online Student of the Block
---
Anamaria Stone
Fall Block II, 2013
Please join me in congratulating Anamaria Stone as the Fall II student of the block! She is a mother and a teacher to her four year old daughter and a proud Army wife. Anamaria is a pediatric home care nurse and works with families and children to help them grow developmentally and physically. She volunteers as a homeschool art teacher for a local organization. Her goal is to complete her BSN and move on to a Master's program in nursing.
---
Starlese Price
Fall Block I, 2013
Please join me in congratulating Starlese P as the Fall I Student of the block. She is a full-time student in Organizational Dynamics and holds a 3.92 GPA. She is the mother of four boys ranging from 3-17 years old and volunteers at her children's school, her church and with Sojourners' Place, a local nonprofit organization. A goal for her future is to start her own nonprofit organization or to become a case manager.
---
Zara Shah
Summer Block II, 2013
Zara Shah has been chosen as Summer Block II student of the block. Zara is a resident of Las Vegas, NV. Even though she has a career she is a very successful psychology student at Wilmington University. She only has a few classes until graduation and has maintained at perfect GPA. Zara has met many wonderful professors and classmates online who have inspired her and kept her motivated along the way. Please join me in congratulating Zara for her hard work and accomplishments!
---
Jarrod White
Summer Block I, 2013
Jarrod White is working on his Bachelor's degree in Marketing and lives in Delray Beach, Florida. He values the support he has received as a Wilmington University student from the staff, teachers and administration. Jarrod's favorite course required the creation of a marketing plan for a business which in turn enhanced a process within his current job. His determination and drive to excel has created opportunities as a student and employee. Please join me in congratulating Jarrod for being selected as Summer Block I, student of the block!
---
Christina Theil
Spring Block II, 2013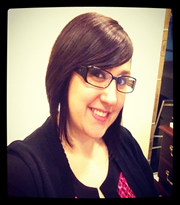 Christina is working on her Masters in Administration of Justice with a concentration in Criminal Behavior. She has 3 classes left (including the one she is currently enrolled in) and her GPA is 3.89. She received her Bachelors in Criminal Justice from the University of Delaware. She also received a Paralegal Certificate with a concentration in Criminal Law from Widener University Legal Education Institute, where she graduated with a 4.0 GPA. Christina resides in Northern Virginia. She was just inducted into the Alpha Phi Sigma National Criminal Justice Honor Society.
---
Patricia Bradshaw
Spring Block I, 2013
She has been chosen as our featured student of the Spring Semester.  Patricia was inducted into the honor society of Sigma Beta Delta in 2010, has maintained a perfect 4.0 GPA and will graduate with a Bachelor's degree after the Spring semester.  Congratulations Patricia, you are an awesome role model!
---