Faculty Profile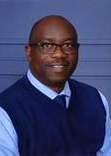 Esosa Iriowen
Adjunct Program Coordinator, Natural Sciences Programs
College of Health Professions and Natural Sciences
Ph.D., Applied Chemistry. Delaware State University. USA
M.S., Environmental and Analytical Chemistry. Delaware State University. USA
M.S. (Tech), Exploration and Environmental Geosciences. Lulea University of Technology. Sweden
B.S. (Hons.), Industrial Chemistry. Ambrose Alli University. Nigeria
C.Cert., Sustainable Developments and Seminars. Uppsala University. Sweden
---
Biography
Dr. Iriowen joined Wimington University 2017. Academic learning spans through three continents (Africa, Europe and North America) and with several scientific publications. Two of his recent publications include the following:
Elelu S-A., Iriowen, E., Adebayo, G.B., & Orefuwa, D. (2020). J. Appl. Sci. Environ. Manage. 24 (5), 767-771.
Elelu S-A., Adebayo, G.B., Abdus-Salam, N., & Iriowen, M. E. (2019). J. of Ame. Inst. Of Chem. 91 (2), 43-49.
He is a Fellow of The America Institute of Chemists, a Life Member of The Gamma Sigma Epsilon (Chemistry Honors Society), and serve in many different boards in Educations, Energy, Community Leadership among many. He is an internationally recognized scholar in his field (Chemistry & Geosciences). He has served as International Conference Chair, Conference Judge, Editorial Scientific Peer-Review, and given oral presentations both national and international conferences such as Gordon Research Conferences (Lacca, Italy), Metal Halide Seminar/Conference (Manchester, UK), Hydrogen Storage Conference (Ontario, Canada) and many more around the globe.
He is a scholarship recipient of Center for Integrated Biologic & Environmental Research (CIBER/EPSCoR) from National Science Foundation (NSF), US-Department of Energy and Transportation (US-DOE/DOT) which he earned from developing a new concept (Sticking Efficiency) of calculating Adsorption of Hydrogen, Methane, and Carbon Dioxide Gases In Metal-Organic Frameworks. He has been invited to be Keynote speaker and Science Boot-Camp Panelist for different academic events. Senior Key Scientist Personnel for "Target Infusion (The MakerLab Project) for the National Science Foundation (NSF) with Delaware State University. Dr. Iriowen enjoys spending time with family, playing soccer, listening to good music, fishing, and playing chess.