Canvas Rich Content Editor (RCE)
The Rich Content Editor in Canvas was updated in December 2020. 
The new release of the Rich Content Editor (RCE) removed the content selector on the right sidebar, which was used to insert links files and images. These features have been moved to the new RCE toolbar. The new RCE organizes tools in a Menu Bar, a Tool Bar and a Content area. The Toolbar allows you to add, edit and format your content. Under the Edit menu, you will see Undo and Redo. The Kaltura tool can be found in the External tools area.
For a detailed comparison of the previous RCE and the new release, please refer to the Rich Content Editor Comparison on the Canvas Community website. 
The image below has each area of the new RCE labeled: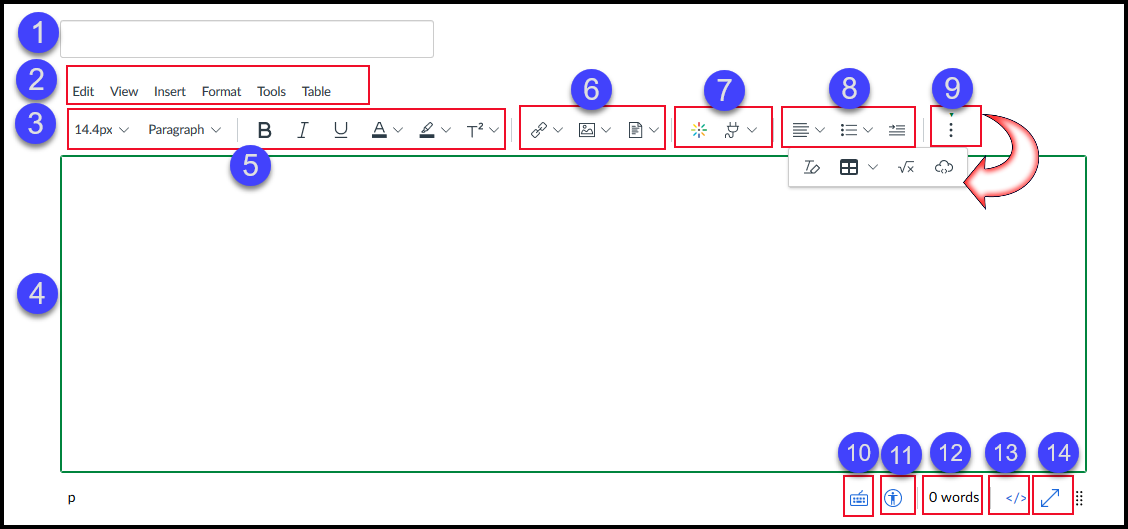 Title field
RCE Menu Bar
RCE Tool Bar
Content Area or Content Field
Text Formatting Tools
Insertion Tools (external URLs, internal links within the course, images, media, documents)
External Tools (Kaltura and External Apps, YouTube is under the plug icon)
Paragraph formatting Tools
Specialty Tools: Clear formatting, Add Table, Equations, Embed Code
Keyboard Shortcuts
Accessibility Checker
Word Counter
HTML editor
Full Screen View (click ESC to return to Canvas view)
Instructors:
The RCE is available to instructors in these areas of Canvas:
Announcements
Assignments
Discussions
Pages
Quizzes
Syllabus
Instructor resources:
Students:
The RCE is available to students in these areas of Canvas:
Discussions
Assignment Text Box (if the assignment submission has the text box enabled)
Group Pages, Discussions, Announcements
Student Resources: