Portfolium
Portfolium is an e-portfolio system that allows students and alumni to visually showcase their academic work, projects and accomplishments. Portfolium is a free and effective way of creating and sharing a rich e-portfolio on a collaborative network that connects students and alumni to recruiters, companies, and jobs.
Quick Links

How to access Portfolium via Canvas
All Wilmington University students and faculty can access their Portfolium account via Canvas, by following these steps: 
Click the Account link in the Global Navigation Menu
Click Portfolium, and then follow the prompts that appear on the screen.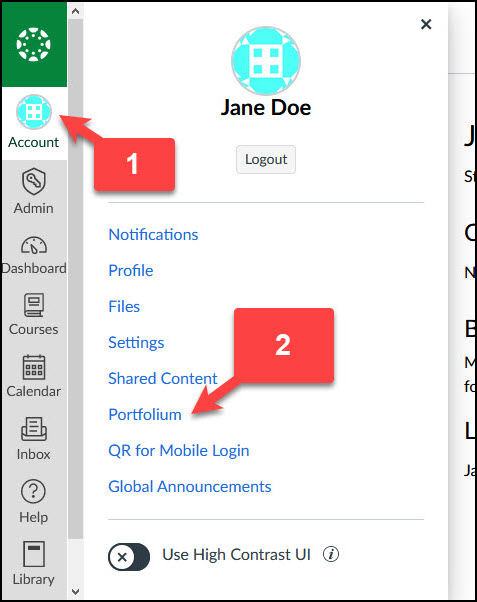 Features of Portfolium
Upload samples of your coursework, transcripts, certificates, awards, writing samples, and more
Share pictures and videos of extracurricular activities, lab research, and experiment results
Share demonstrations of specific skills, such as design, drawing, programming, etc.
Follow companies of interest and explore job opportunities
Portfolium as a tool for student success
Students who create an e-portfolio on Portfolium will be able to supplement their resume with visual examples of their projects and accomplishments. This can be instrumental for their success in the job market because, using Portfolium effectively will present them as strong candidates for hire. In addition, all users of the platform – students, alumni and faculty alike, will be able to track their individual growth and performance in their area of specialization over time. The opportunity to self-evaluate and self-assess that the platform encourages, can lead to overall improvement and expertise. Read more in the WilmU magazine article, "A Platform for Student Success".
Additional resources from Portfolium