TurnItIn Similarity Reports
Video Tutorials for Students
TurnItIn can only be used if your instructor has enabled it: 
Students will be able to use TurnItIn as the similarity checking tool. Students should contact their instructor directly to request that they set up a TurnItIn draft assignment in their course to submit and view a similarity report for a draft of a writing assignment.
Another option is to set up an appointment with the Student Success Center or use the SmartThinking tutoring service, for APA and citation help on essays.
Tutorials for Instructors 
Please note that faculty candidates will not have this tool available until they get their full WilmU login credentials.
What is the TurnItIn Similarity Report?
TurnItIn is a similarity detection tool that detects any passages in a submission that has been previously submitted to WilmU or to thousands of other institutions; it will also compare passages to websites, journals, and other research sources.


This academic integrity tool helps prevent plagiarism by detecting unoriginal content. When an essay is uploaded to TurnItIn, an originality report will be generated that automatically identifies and highlights phrases of text that are not properly cited. 


It is important for students to understand academic integrity and properly cite quotes and ideas from other authors.  In addition to acting as a plagiarism deterrent, TurnItIn also has features designed to aid in educating students about plagiarism and the importance of proper attribution of any borrowed content.  

Additional information about cheating and test tampering may be found in the 

Wilmington University Code of Conduct

.
How does it work? 
TurnItIn serves two primary functions: 
Identify unoriginal content by detecting potential plagiarism issues.


Manage potential academic misconduct by highlighting similarities to a repository of internet, academic, and student paper content.
What is a 
s
imilarity 
report? 
TurnItIn uses certain colors to represent similarity percentages on a similarity report. The color of the report icon indicates the similarity score of the paper, based on the amount of matching or similar text that was uncovered. The percentage range is 0% to 100%. The possible similarity ranges are:
Blue:

 

No matching text
Green:

 

One word to 24% matching text
Yellow:

 

25-49% matching text
Orange:

 

50-74% matching text
Red:

 

75-100% matching text
View this webpage to learn how to access a Similarity Report.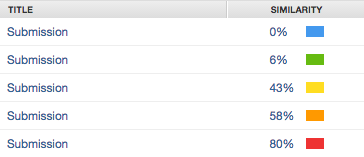 Turnitin will not accept the following to generate Similarity Reports:
 
Password protected files

Microsoft® Works (.wps) files

Microsoft Word 2007 macros-enabled .docm files

OpenOffice Text (.odt) files created and downloaded from Google Docs online

Document (.doc) files created using OpenOffice, as they are not 100% Microsoft Word equivalent

Apple Pages

Spreadsheets created outside of Microsoft Excel (i.e. .ods)

Text with visual effects

Learn more about accepted file types and sizes