Canvas for Students
Canvas is Wilmington University's Learning Management System. It provides students with a fast, simple to use, and engaging online experience. Login to Canvas via myWilmU. The LMS allows instructors and students to access course materials, submit assignments, communicate and collaborate online. It has various tools for delivering learning content, engaging online learners, and measuring their performance.
Canvas Training for Students
Do you want to know more about the Dashboard?  Want to know more about the Canvas Inbox? Want to receive push notification to remind you about upcoming assignments that are due? These resources only take a few minutes to review and once you have finished, you'll be able to get the most out of Canvas!  
Online Course Orientation - Access our Online Course Orientation and become a Canvas Pro!
Training Videos - View WilmU-specific tutorials to help you with the most common tasks and questions you might have.
Experiencing Browser Issues? See Web Browser Issues with Canvas.
7 Steps to Get Started in Canvas:
Frequently Asked Questions:
When will students have access to their Canvas account?
Courses will be made available to students two weeks before they are scheduled to begin. You will receive a Canvas account after you register for your first course. If you do not get access to Canvas within 24 hours from registering for a course, please open a help desk ticket. 
Canvas Student mobile app
The Canvas by Instructure app is the mobile version of Canvas that helps you stay current with your courses anywhere you go. Download the free Canvas app on Android and iOS devices. Learn how to install the Canvas Student app.
Effective July 31, 2021, Canvas will no longer support SMS notifications (text messages) for announcements and grades.  Canvas encourages users that previously used SMS notifications to download the mobile app and enable push notifications for announcements and/or grades.
Create your profile
Profiles allows you to update your name, preferred pronoun, preferred contact methods, and any personal links for your account. Your profile information can be viewed by all users in your courses. Watch this video to learn more about  Account Profile, Notifications, and Files.  All Wilmington University students must keep content and activity in Canvas professional.  Additionally, students are advised against sharing personal details such as phone numbers and home addresses on Canvas to ensure safety.
How to access your profile: 
In Global Navigation, click the 

Account  link



Click the 

Profile link





To 

upload a profile picture

, click the 

profile picture  icon. To upload a new profile picture, click the Upload a Picture tab, then click the choose a picture link. You can also drag a picture from your desktop and drop it into the uploader. Learn more about the three ways to add a profile picture. 

Tips for profile pictures:

Please choose an appropriate picture to represent yourself. Wilmington University has the right to remove pictures that are not appropriate for a classroom setting.
Images should be square in size to prevent your picture from being resized or distorted.
Files can be any type (.jpg, .png, .gif) or size as long as you have room in your personal files to store the file. Canvas recommends that your profile picture be as small as possible.
Your personal files quota is enforced when uploading a profile picture. If you do not have enough storage space in your personal files, you will not be able to upload your profile picture. Create more space by removing some files in your personal files.



In the top right corner, click the traffic light button.
Then click "Edit Profile".
 
You can modify your name to a nickname or preferred name.


You can select you preferred pronoun to one of the following options: None, She/Her, He/Him, or They/Them.


You can add your title.


Type your biography in the biography field. You can add hobbies and interesting facts about yourself.


To add personal links to your profile, such as personal websites, blogs, or portfolios, enter the title of the link in the title field. Then copy and paste the URL in the URL field.


Click the Save Profile button.


Set up your default time zone 
Online assignments at Wilmington University align with the Eastern Standard Time zone. All dates, due dates, and times throughout a course are displayed according to the Eastern Standard Time zone.  Additionally, most assignments are due at the end of their assigned week at 11:59pm (one minute before midnight). 
In Canvas, users can specify a time zone in their User Settings, which does not have any effect on the course time zone. If users have set a specific time zone in their User Settings, all course dates and times will display in their local time, but if they hover over the date and time, they can also see the course date and time.
How to change your time zone from the EST default:
In Course Navigation, click the Settings link.
Click the Course Details tab.
In the Time Zone drop-down menu, select a new time zone for your course.
Click the Update Course Details button.
View the time zone for your course.
Navigate a course in Canvas
>Watch these videos to learn more about:
Check your grades and feedback
Watch this video to learn more about Grades, Submitting Work, and Turnitin (Plagiarism Checker)

Tech Support 
You can access the Help Desk directly from the global navigation menu while logged into Canvas. Watch this video to get an  Introduction to Canvas and How to Log-in.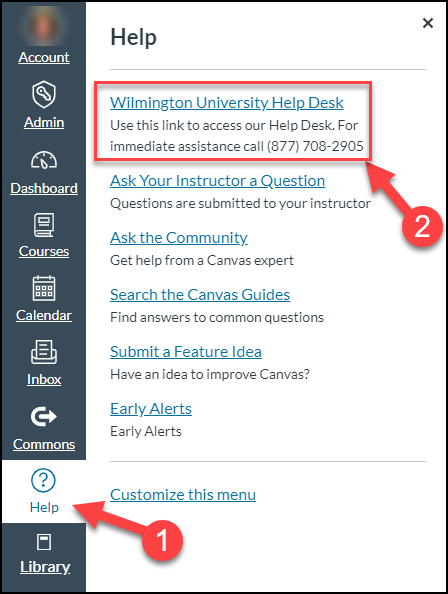 TurnItIn Assignments - Submitting and checking the Originality Report and ETS Grammar report
Why are the emails in my student myWilmU email account not synching with my Canvas Inbox?
The Canvas Inbox is not synced with a student's myWilmU email account. This is not a bug in the system, it is just how it works. While that would certainly be ideal, it is simply not an option, as the system is not built to have this feature.

A simple way to think of the Canvas Inbox is it is basically like a web form that generates a one-way email message to students. That is, the Canvas Inbox is not a two-way mailbox system.

The confusion around this is that messages sent from the Canvas Inbox do send a copy of the message to a student's WilmU email. So one may assume that these should be the same inbox, but unfortunately, that is not the case. Students will still need to check their myWilmU email to view all emails generated outside of the Canvas LMS.
How to access a Canvas course from a prior term that is no longer on my dashboard?
Please note that students can still access the course, but they cannot be readded to their dashboard. 

Steps to access courses from prior terms:
Click the Courses icon on the left-side navigation menu.
In the "Past Enrollments" section, click on the name of the course. Notice you can no longer click the star to make the course appear on your dashboard. Courses from prior terms need to be accessed directly from the courses page, instead of the dashboard: https://wilmu.instructure.com/courses.

Click modules to access the content from the course.
Where are my courses for the upcoming term?
We have received a number of concerns regarding the availability of courses in Canvas for an upcoming block or semester. Mostly due to students ensuring that they properly registered for those courses. Please note that students can check on the status of upcoming courses by following these steps:
On your dashboard, look to the left and click on the Courses Tab.
When it bumps out, look to the bottom and then click on "All Courses".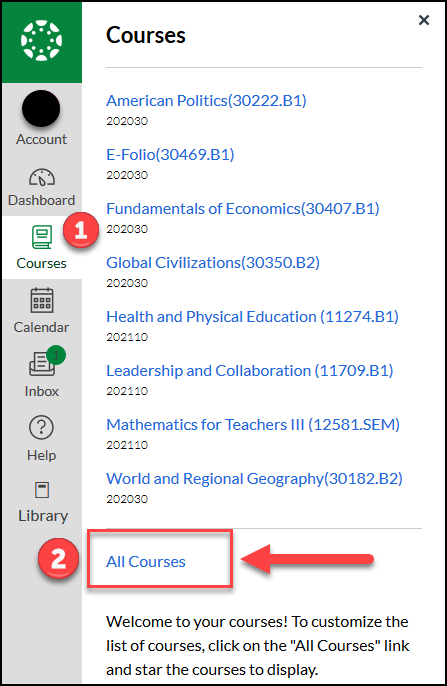 On this screen you will now see all the courses that you are enrolled in and have ever taken at Wilmington University.  You will also see the upcoming courses, but they will not be available until 2 weeks prior to the start of that term.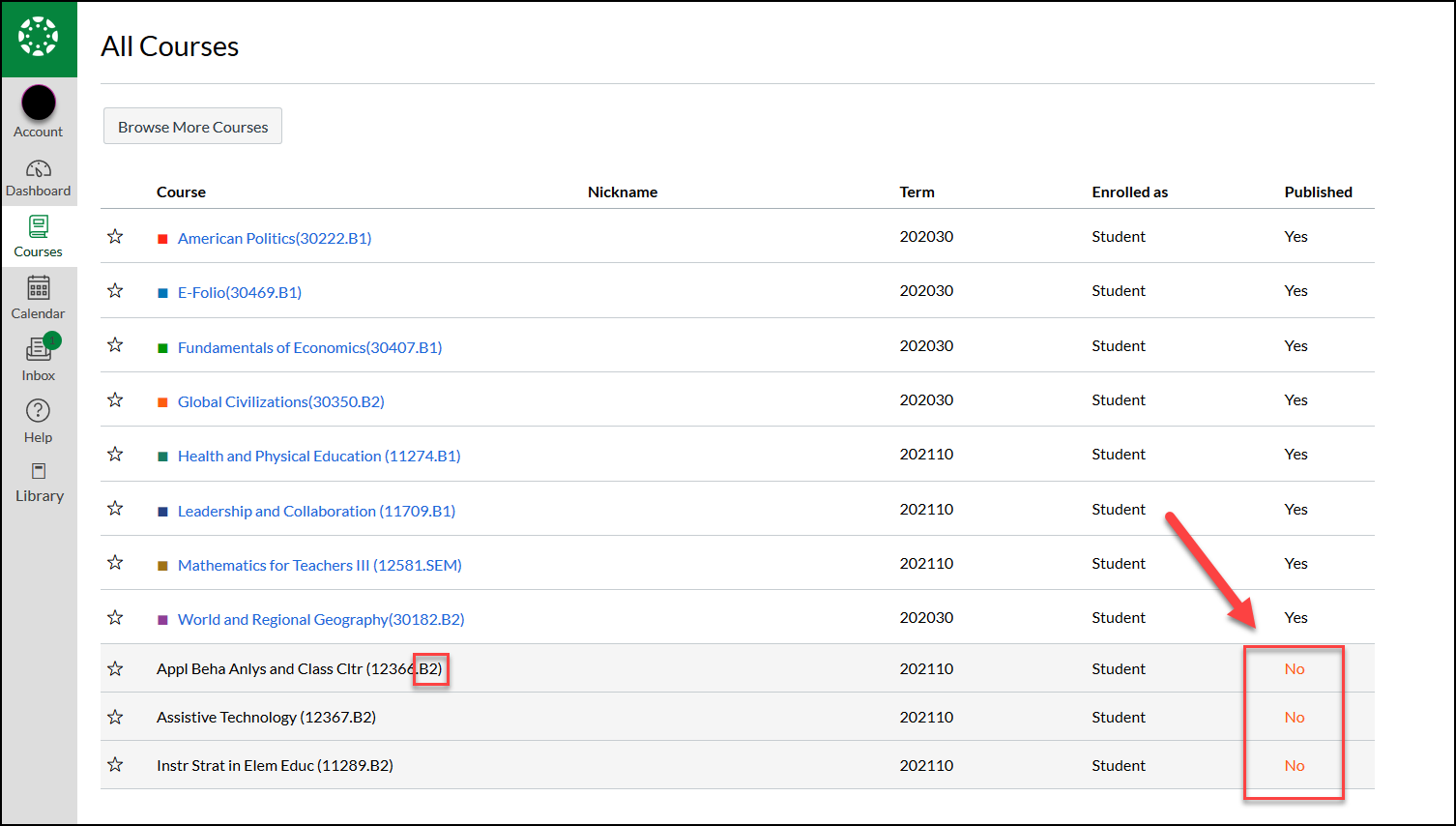 The University policy is to have courses open and accessible for our students, two weeks prior to the start of the appropriate term.  
How do I manage the virtual celebrations feature for on-time submissions to a Canvas assignment?
A virtual confetti celebration feature has been enabled for On-Time student submissions to a Canvas assignment. Now, when students submit an assignment on time, confetti briefly cascades down the screen. On-time submissions include both an initial submission and resubmissions that take place before the assignment due date. Students can choose to hide celebration animations in their  User Settings page. Students may view the Canvas Guide on how students manage this  feature option, and watch this video overview: