Understanding Instructor Feedback
Wilmington University instructors offer feedback on student submissions in a wide variety of ways. It is important to read this feedback in order to understand the strengths and weaknesses of your submissions. Responding to the feedback creates a conversation between you and your instructor that can enhance your engagement and experience in the course.
Finding my grades
Finding Feedback on the Grades page
Finding Feedback provided directly on a submission


Finding My Grades
You can find your grades by selecting the Grades option from the Home menu within your Canvas class.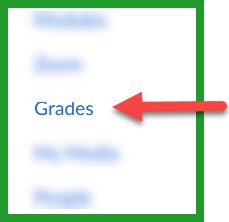 Finding Feedback on the Grades Page
Your Grades page will show you a variety of information regarding your assignments, due dates, and grade weights. To find feedback about specific assignments, scroll to that assignment on your grades list. To the right of the grade, you will see a symbol that indicates whether you have received instructor feedback on that assignment.

Shows that a rubric has been completed for this assignment. Click on the rubric icon to unfold the rubric and view results.
Shows the number of comments related to this assignment. Click on the icon to read comments.
Shows the TurnItIn results for this assignment, if applicable. Click on the colored icon to see these results.
Finding Feedback Provided Directly on a Submission
In addition to leaving general comments about your submission, your instructor might provide specific comments on the submission itself.  To view these comments, click on the assignment title.

This will show you a screen where you can see both the feedback provided in the comment box as well as a link to feedback provided on the paper itself. Choosing View Feedback will open a document viewer that will show feedback left by you instructor directly on the submission.