Canvas Assignment Feedback
Why Read Feedback?
It takes a significant amount of time for instructors to provide feedback on assignments. Consider reading and replying to their comments to let them know you're taking what they've told you into consideration.
Receiving feedback from instructors will help you with understanding complex ideas and tasks from a qualified subject matter expert that's a practitioner in their field.
Replying to feedback may foster a relationship between teachers and students and makes them feel more engaged with their coursework.
Types of Feedback on Canvas Assignments
There are several types of feedback you may receive on an assignment. If you do not see any feedback, then no feedback was provided. Please note that some assignments may have multiple types of feedback. 
Where to view assignment feedback:
Go to the "Grades" link on the Canvas course menu, then click the feedback or rubric icon which appears to the right of the assignment name. In-line comments will only appear through a preview tool called Canvas DocViewer.




On the right side of your Canvas dashboard and the course home page, you will see a "Recent Feedback" section. Clicking on a link in this area will take you directly to the assignment submission with feedback.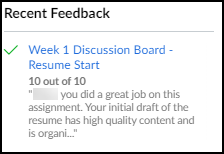 Feedback type 1: Assignment Comments
To check if any assignment comments have been provided on you, follow these steps:
Go to the "Grades" link on the Canvas course menu.
Directly to the right of the score for an assignment, you may see a small text-bubble icon. Simply click on this icon to review the comments. If you do not see this icon, then no comments were left.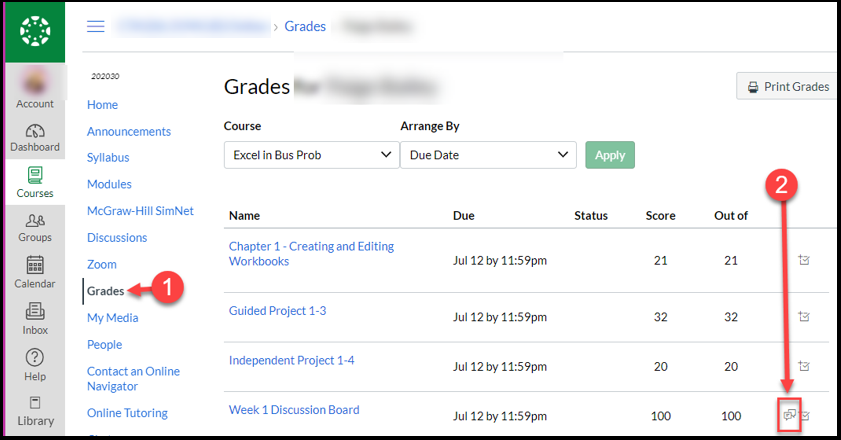 Below is an example of a comment left from an instructor on a student's assignment. 

Feedback type 2: In-line comments on essay-type assignments
Your instructor may choose to include comments directly in an assignment submission using inline comments, or annotations. You can view these in-line comments on essay-type assignments by following these steps:
Click on the name of the assignment.
Review each in-line comment in the preview window by scrolling down and hovering over each annotated comment.
You can click the reply button beneath a comment to respond directly to your teacher. View this webpage to learn more about viewing annotation feedback comments directly in an assignment submission.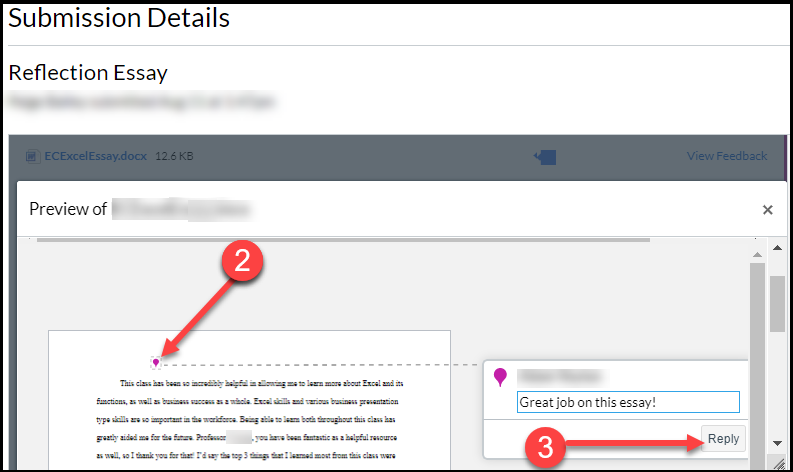 Example of an essay with multiple annotations: 
View the annotated comments from your instructor [1]. To reply to a comment, click on the comment and click the Reply button [2]. When an annotated comment includes multiple content lines, the content box displays an ellipses link [3]. To expand a comment, click the ellipses link. To view stacked replies, click the comment to expand all replies [4]. You can also use DocViewer to make your own annotations on your assignment.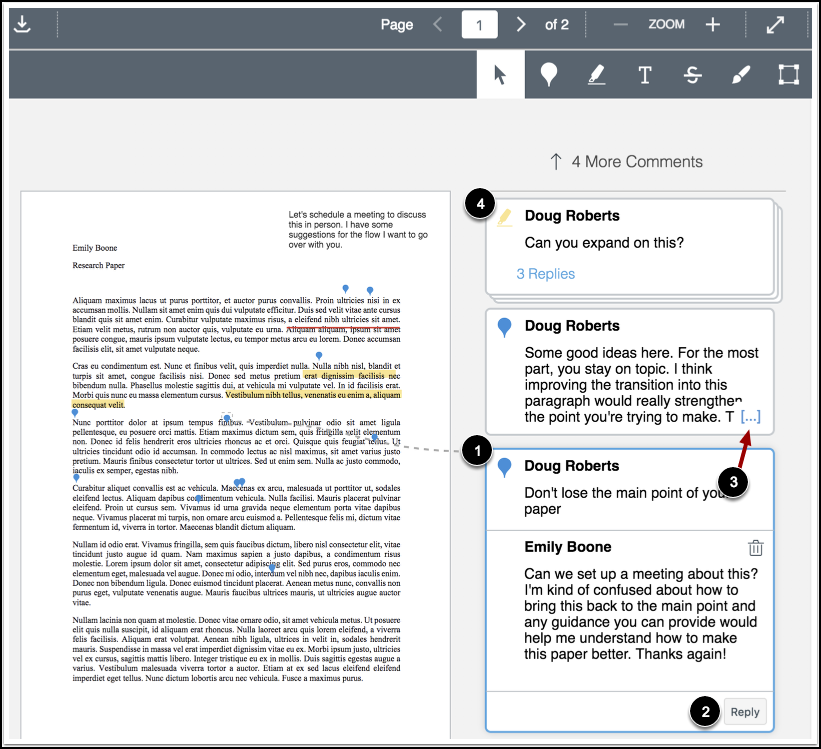 Feedback type 3: Rubric
To see feedback within a rubric, follow these steps: 
Click on show rubric icon:



The rubric will now display on the screen. You may need to scroll down to see additional rows on the rubric.

Additional Resources to Learn More:
Watch this video to learn more about Grades, Submitting Work, and Turnitin (Plagiarism Checker).
Online Course Orientation- This interactive orientation provides a "how-to" for taking online courses at Wilmington University and for using Canvas.  Use this training to become comfortable and competent with the tools that are commonly used in our online courses. It also briefly touches on hardware and software requirements, and where students should go for technology support.