Groupwork in Canvas
What are groups in Canvas?
Groups are a small version of a course and used as a collaborative tool where students can work together on group projects and assignments. Groups typically consist of three or four students. 
How to initiate virtual group work? 
If your teacher has set up groups in your Canvas course, follow these steps:
Click the "People" link on the course menu to view the other students in your group
Click the "Groups" tab
Click the "Visit" link to access your group. Learn more about how to interact with your Canvas Group.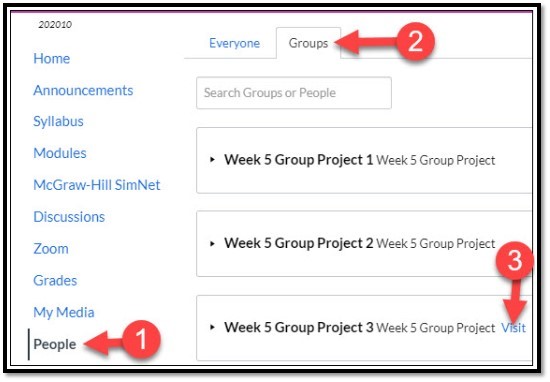 Tips to Initiate Virtual Group Work
Contact your group as soon as possible to schedule a time to meet together.
Unless your teacher specifies, it's up to your team to choose how you collaborate.

 Zoom is recommend since all students automatically have an account.
Use your Zoom account to set up a meeting. It can be recorded in case one of your group members cannot attend.

Divide and conquer – each member should take a small part of the project. You can contact you instructor with questions or concerns.