New Quizzes in Canvas for Students
New Quizzes is a new quiz assessment tool that Canvas has been developing.  New Quizzes has some new features and differences from the current quiz assessment tool in Canvas (now referred to as "Classic Quizzes").  As New Quizzes nears the completion of its development, it will soon replace Classic Quizzes and become the default quiz assessment tool in Canvas.
Table of Contents
Using New Quizzes
New Quizzes Overview
New Quizzes Overview Transcript
For the latest updates to the New Quizzes Overview for Students from Canvas visit: https://community.canvaslms.com/t5/Video-Guide/New-Quizzes-Overview-Students/ta-p/384274
Taking a Quiz
Canvas Student Guides for New Quizzes
Known Issues
Manually-Graded Questions Show as 0 Points Until Graded
New Quizzes treats manually-graded questions (essay questions, and file uploads) as 0 points when calculating the overall score, until they are graded by the instructor. 
If the instructor for a course has grades hidden for New Quizzes, then they will release the scores after the submissions have been graded.
If the instructor allows grades to be released for New Quizzes immediately, then the grade students see may not be the final grade for submission as the instructor may still need to grade some questions.
Workaround:
To know if all questions have been graded, click the grade for the assignment to view the submission details.
In the submission details, there will be an alert at the top if there are questions that still need to be graded [1].
If students are permitted to view the results for individual questions, there will also be a message under each question that still needs to be graded [2].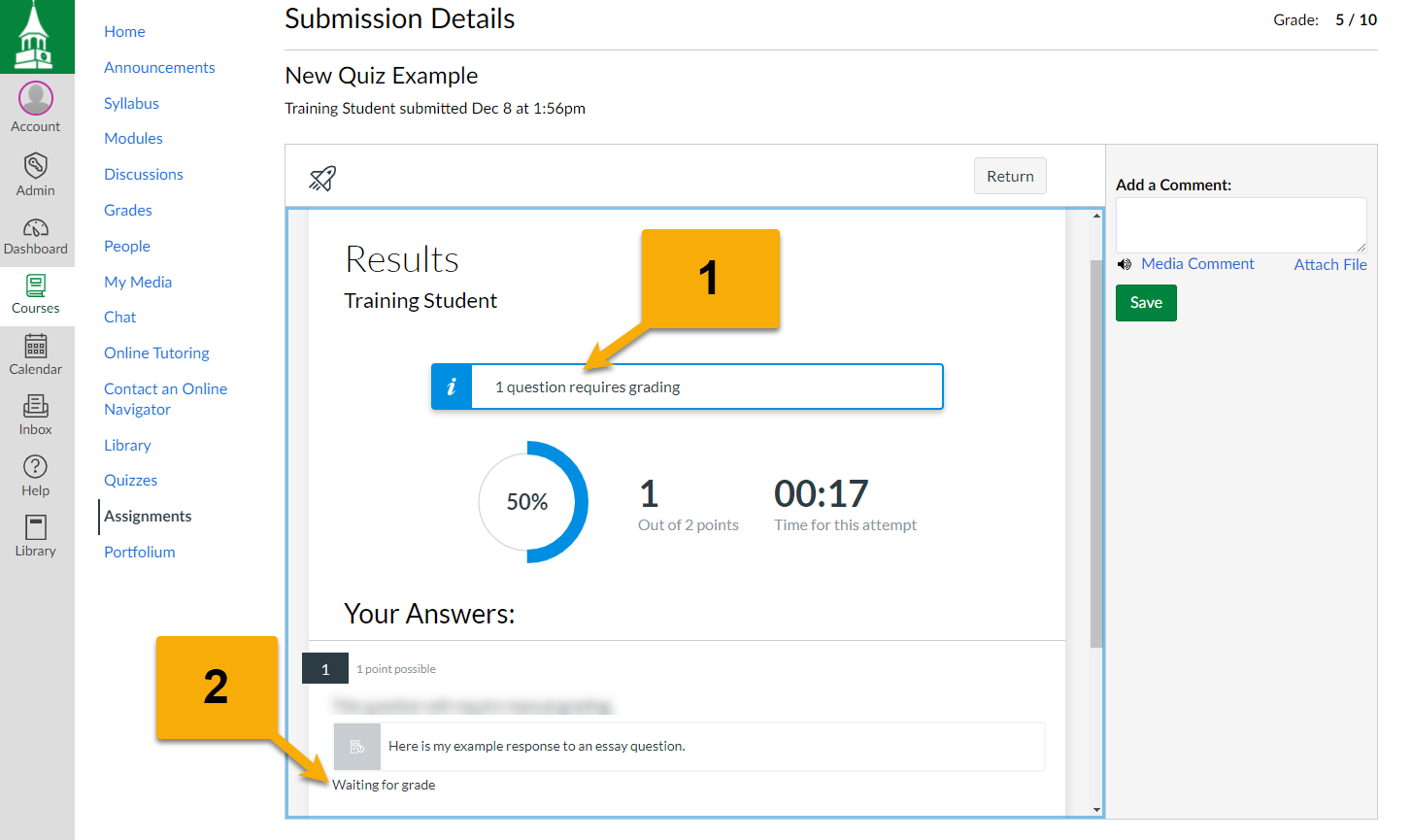 For more information about viewing results for New Quizzes visit: https://community.canvaslms.com/t5/Student-Guide/How-do-I-view-my-quiz-results-as-a-student-in-New-Quizzes/ta-p/289