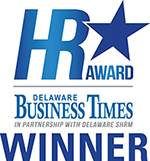 The Wilmington University Human Resources Department is committed to supporting and promoting a positive workforce culture that fosters diversity, equity, and inclusion in all aspects of recruitment, hiring, retention, and employee development.
We are committed to hiring the highest qualified individuals dedicated to meeting the educational goals of Wilmington University's diverse student population and treating everyone with dignity and respect.
The Human Resources Department affirms its commitment to ensuring that all employment and employment-related decisions are based on the principles of equal opportunity.
We maintain confidentiality while providing quality service, promoting teamwork, and focusing on innovation.
Wilmington University offers a comprehensive benefits program that promotes wellness and supports healthy lifestyle choices.
The Human Resources Department strives to create a workplace where employees' unique perspectives and experiences are valued, and they are provided with equal opportunities for growth and success in a safe environment and positive work culture.