Do-It-Yourself Best Practices
Directions for using a Flip Camcorder
Attach Tripod
Screw Tripod into bottom of the camera. Be sure the surface is stable.
Power Up Camera
Press the Power Button once. A small rectangular button on the thin side will turn the camera on.
Record
Press the Red Circle on the back of the camera to begin recording. Press it again to stop recording when you are finished.
Tips and tricks for shooting
Below are a few tricks that will help make your video great:
Practice your script
Practice reading your script out loud, the more of your script you have committed to memory the better.
Break into sections
You may find it easier to break up your script in to sections. This is perfectly fine, in fact most people prefer breaking their script into 3 sections.
Smile for 5 seconds before and after each take
While this part may feel weird, it helps the editor cut from segment to segment. This is one of those elements of movie magic, the editor will take best segments from all of your videos to make the final video.
Have fun
This may be a new experience and we want you to be yourself. So take a moment and relax. You will do great!
Best Practices

Ask a Friend for Help
Unfortunately we can't send you a friend; you're going to have to get your own. Ask a friend to help you film your segment.
---

Stay Indoors
Staying indoors is best for a number of reasons. It helps with maintaining proper lighting and looks more professional.
---

No Sunlight
Stay away from windows or any sunlight that is coming into the room. The sun is very strong and will over-power any lights in your home or office.
---

Quiet Test
Close your eyes and listen. If you can hear something, so can the camera. Avoid things like fans, noisy computers, people talking, and ringing cell phones.
---

Lighting
Be sure you are facing a light and that there are no harsh shadows on your face.
---

Audio
Talk loud enough, as if the camera was a person.
---

Clothing
Wear solid colors. Stripes confuse the camera sometimes. Also be sure to dress nice for your video.
---

Smile
Smile and look directly into the camera.
---
Framing
This is an ideal camera framing, You should have a little space above your head, and on both sides. The focus should be on your face. We don't need to see your new shoes, we know they're nice.
---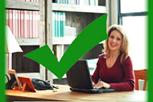 Background
Choose what you want your students to see wisely. Make sure your background is appropriate and professional.
---

Test Footage
Practice once and playback the footage to make sure you are there.
---

Keep the Tripod on a Table
The camera has to be stable.
---