Multimedia Services for Faculty and Staff
Wilmington University offers an array of services for Faculty and Staff designed to meet increasing multimedia needs which involve technical support, creation of rich-media content, high-tech equipment, and special software.
---
---
Looking for information on WilmUTube? Click here!
---
Multimedia Tools
Learn about using the Swivl to create do-it-yourself lecture capture segments for online learning courses or using the "flipped classroom" model in face-to-face courses.
---
Photo and Video Services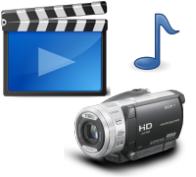 Online videos are a great way to reach a wide-audience and a high-touch approach to increasing understanding and awareness of a service or message. There are several different video options available for your needs.

Wilmington University has created several Do-It-Yourself Multimedia studios, spaces designed for the easiest possible use by students and faculty to create simple, high-quality videos for assignments and courses. There are two locations: one in Dover and one at the Wilson Graduate Center.