Video-Enabled Classroom
Wilmington University's video-enabled classrooms allow our faculty to teach both face-to-face and online students simultaneously. These classrooms also provide lecture capture solutions. There are several small video-enabled classrooms and two large video-enabled classrooms. These classrooms are equipped with an interactive whiteboard, audio, and video. Through the use of Zoom in any course, this technology is easy to use and access in a familiar web conference format.  This technology allows students to see, hear, and interact with students in the face-to-face classroom. It also provides an archived recording within the course for those that were unable to attend the lecture.
The small video-enabled classrooms are currently located in New Castle, Dover, and Brandywine.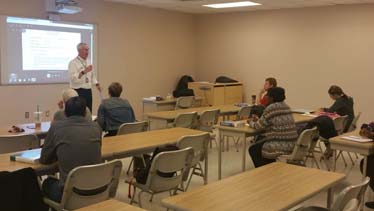 Two large video-enabled classrooms are located in Brandywine 318 and 322.
Instructor Training for the Video-Enabled Classroom
If you are an instructor assigned to teach a class in the video-enabled classroom, you will need to complete the following training:
·         Web Conferencing
·         Video-Enabled Classroom Instruction
 You can sign up for these courses in the WilmU Learning Center.
For more information on how to register for workshops, visit this help page.
 Small Video-Enabled Classroom Resources
Large Video-Enabled Classroom Resources