Live Online Video Broadcasting
Online Video Broadcast is a service provided by Wilmington University to broadcast video live over the Internet enabling viewers to watch a presentation or event in real time that they cannot physically attend. This service allows online viewers to instant message their responses during the question and answer session.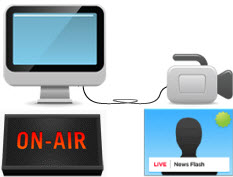 Details:
Events pertaining to Wilmington University and its interest. This service is NOT for recording student presentations.
Special purpose events & presentations (such as the Graduation Ceremony or a presentation with a guest speaker).
Please note that live video streaming of guest speakers and events has limited availability. Zoom can also be used as a live, synchronous streaming option and may be better suited to your needs.
Assistance
For assistance in deciding if this service is right for your event, you may contact the Multimedia Department at multimedia@wilmu.edu.
---
---