Do-It-Yourself Lecture Capture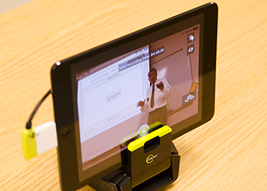 Have you ever wanted to record lecture segments or instructional pieces for your course but didn't know where to begin? The multimedia unit in the WilmU Educational Technology department has you covered! A special do-it-yourself setup is available to WilmU faculty using remote-control camera turrets and iPads. Record HD video and crystal clear audio with only 15 minutes of training. Creating dynamic learning content for your courses has never been easier.
Do-It-Yourself Lecture Capture Examples
Whether used in the classroom for lecture capture or on-location for instructional demos, this do-it-yourself device will allow you to bring exciting and dynamic content to your students!
If you're interested in getting training so you can start using the do-it-yourself equipment, contact us via email at multimedia@wilmu.edu or fill out a project request form below. Online video is a great addition to both face-to-face and distance courses, let us help you increase engagement with your students!
---