Wireless (Wi-Fi) Internet Access
WilmU Wi-Fi Network: Login Required
Wilmington University provides wireless network/Internet access to students, faculty and staff via our wireless network: WilmU
Each student, faculty, and staff member to log in using their WilmU username and password:
Students should use their myWilmU username and password
Faculty and Staff should use their Email/computer username and password
Why is Login Required?
The WilmU wireless network provides security and encryption for your Internet activity and transactions.
Restricted access to our networks helps reduce security risks for Wilmington University's networks, systems, and the devices connected to them.
---
How will I connect?
Connect your computer, tablet, or mobile device to the network named WilmU.
Windows: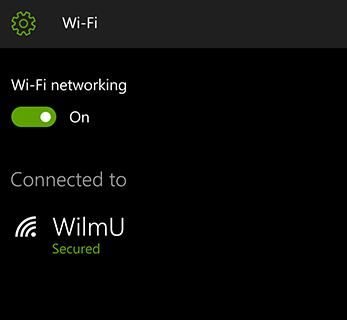 Android: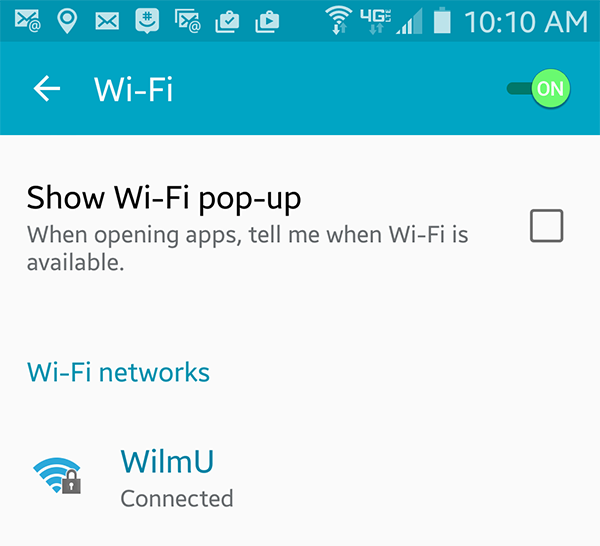 iPhone / iPad: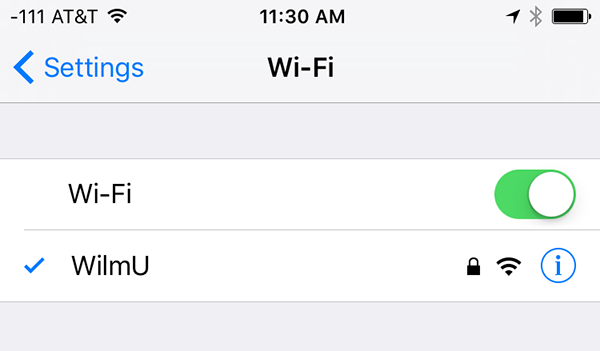 Mac OS X:

When prompted, enter your username and password (see above).
If prompted to accept a security certificate, click or tap Accept.
Most devices will remember this connection, and will automatically connect the next time you're in range (device settings and user preferences vary).
What if I have trouble connecting?
Contact the University's Tech Support. Please be prepared to provide:

Location - site, building, room/area
Date and time you experienced the issue
Device make, model and operating system (Examples: iPhone 5s with iOS 8, Galaxy S4 with 4.4.4 KitKat, Dell Inspiron laptop with Windows 8.1)