Where & How to Take Courses
Make your WilmU academic program work for your life by selecting convenient locations and modalities for completing your courses.
---
For maximum flexibility, most WilmU programs can be completed through a combination of face-to-face, hybrid, and 100% online courses. Each program's location listing can be found on its academic program page, but many individual courses can also be completed at additional locations or 100% online.
---
How do I find out which courses I need?
Start on the academic program page for your desired degree or certificate. Then click the curriculum tab to see a list of required courses. You can click on each individual course to read its description.
Need help identifying your academic program? Explore programs here.
Current students: Contact an Academic Advisor for help in finding the most convenient courses.
---
---
What if my closest site isn't listed as a location for my desired program?
Don't worry, we can help! Our Admissions Specialists can work with you to develop a plan for completing the courses you need through a variety of locations or modalities. Take a look at these examples: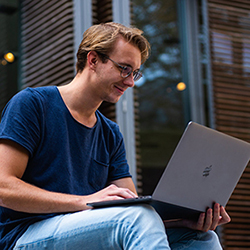 James
Desired Degree: BS in Web Design
While this program can be completed entirely through face-to-face classes at the New Castle campus, general education and elective courses can also be taken online or at other WilmU sites closer to James's home.
James's Solution: Complete core web design courses at New Castle and all other degree requirements through a combination of online courses and hybrid or in-person courses at WilmU Dover.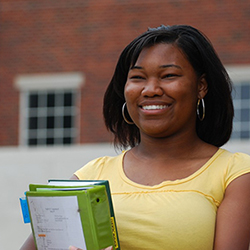 Kelly
Desired Degree: BS in Health Sciences
This degree program is offered at several locations in both Delaware and New Jersey, but not at the WilmU site closest to Kelly's home. It is also offered 100% online.
Kelly's Solution: Combine online courses with in-person courses held at the WilmU site closest to her place of work. She also visits her closest WilmU site for in-person advisement and student support services.
---
Have Questions? Let Us Help!
Our Admissions Specialists can help you explore academic programs, understand admission requirements, explain course locations and modalities, and more, so you can build the WilmU education plan that works for you.