Canvas Training for Faculty
The Canvas LMS provides faculty and students with an intuitive, fast, and engaging online experience. This LMS allows users to access course materials, complete assignments, communicate and collaborate online. It has various tools for delivering learning content, engaging online learners, and measuring their performance. Faculty at Wilmington University are required to complete Canvas training before being assigned a course. 
Training Resources:
Experiencing Browser Issues? See Web Browser Issues with Canvas.
How to Complete Your Required Canvas Trainings
All faculty are required to complete training prior to teaching: Canvas Basic nd Canvas Advanced which are prerequisites for Hybrid and Online Training (HOT). The Educational Technology department teaches Canvas Basic and Advanced. Please refer to the Hybrid and Online Training page for information about HOT after you complete Canvas Training.
Instructors may take Canvas training in the following modalities: 
All modalities of Canvas Training require completion of activities in a training course, the Canvas Sandbox.
---
Instructor-Led Workshop
Current adjuncts with a wilmu.edu email address may register in the Learning Center for Canvas Trainings.
Faculty candidates without access to the Learning Center, please view the Workshop Calendar, and choose a date. Then, email edtech@wilmu.edu prior to the start date and we will register you for the training. 
On-Demand Videos
Please watch the videos, and then complete the activity list, which can be found in your files area of your Sandbox course. The on-demand videos are also located in your Sandbox course. To view them within your Sandbox, refer to the Canvas Basic and Canvas Advanced Self-Paced Training Details Page located in your Sandbox's START HERE Module. 
Canvas Basic videos:
Canvas Advanced videos:
Self-Paced Online Training
All instructors are assigned a Sandbox course that they will see on their Canvas dashboard when they login to Canvas. The Welcome page on the Sandbox contains a link to the self-paced activity sheets for both Canvas Basic and Advanced.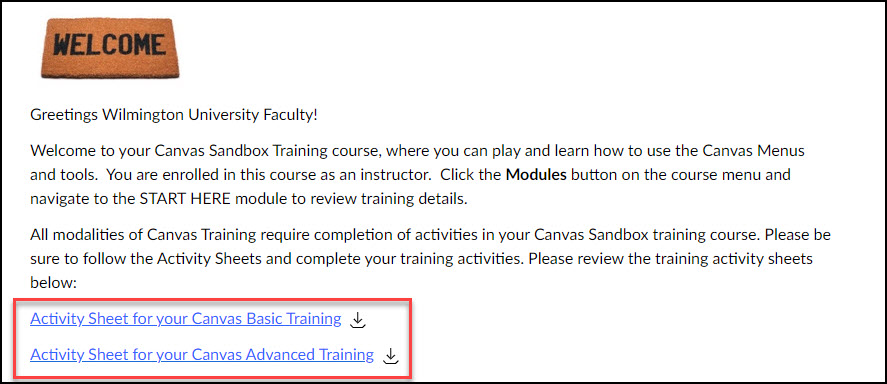 All modalities of Canvas Training require completion of activities in a training course, the Canvas Sandbox.
---
How to Register for a Workshop
Faculty members with wilmu.edu email addresses may register for Workshops in the WilmU Learning Center. To access the Learning Center, logon to myWilmU and then click on Faculty Resources: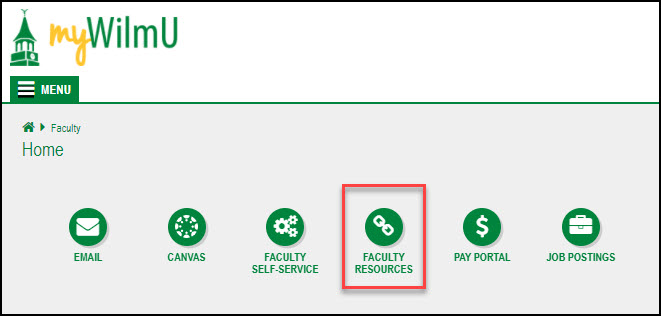 Then, click on the Learning Center in the Professional Development and Technology module: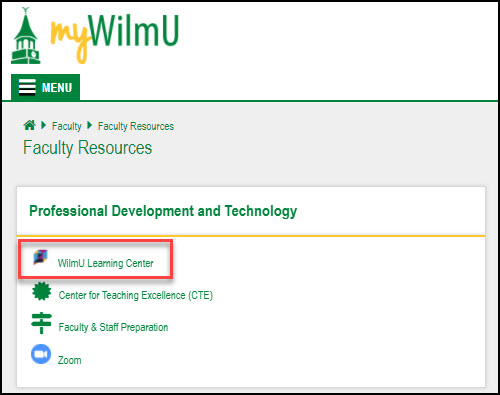 Faculty Candidates, please wait to register for additional training until after you have your wilmu.edu email address. 
Do I have to sign-up for the online self-paced Canvas trainings?
No, you do not have to register for this training. You may begin your self-paced option immediately without registering. Simply login to Canvas to complete the tasks listed on the activity sheets in your Canvas Sandbox. We will record your completion after you finish. 
Is Canvas training required?
Yes, Canvas Basics and Canvas Advanced are trainings that all faculty are required to complete to be eligible to teach. Faculty are also required to take Hybrid and Online Training, offered by the Online Learning Department, and Becoming a Scholarly Practitioner, offered by the Center for Teaching Excellence.
How do I become eligible to sign up for Hybrid and Online Training (HOT)?
Complete the two pre-requisite workshops: Canvas Basics and Canvas Advanced. Once you have completed Canvas Advanced, you will be sent an email invitation to register for HOT. 


Additional Support Options
Please view the Canvas LMS page for FAQs about using Canvas. For any other questions about training or requests for support, please contact the Educational Technology Department using these Request Forms or directly at edtech@wilmu.edu.