FLEX Modality
The FLEX modality allows the student to  attend class face-to-face or synchronously online. The class will still meet each week in a campus classroom.  Faculty will share their in-class teaching and discussions via live synchronous webinar. This opportunity provides students an option to attend on location or via webinar for each class session. Synchronous classes are those that require students and instructors to be online at the same time.
This modality provides an engaging experience to the online learner desiring to actively participate in class discussions, lectures, and projects. This modality also offers the flexibility of face-to-face students to attend synchronously online in certain circumstances that will be outlined by your program. The FLEX modality is part of an effort to improve the educational experience by reducing course-related student travel and keeping students on or close to their "home" campuses. The FLEX modality aligns with Wilmington University's mission to provide a quality education with convenience and flexibility.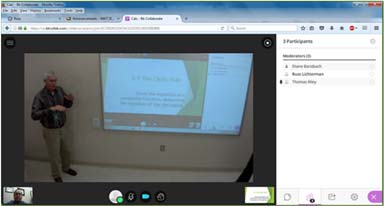 The FLEX modality is available through the use of a video-enabled classroom. A video-enabled classroom allows our faculty to teach both face-to-face and online students simultaneously. This classroom is equipped with an interactive whiteboard, audio, and video. Wilmington University uses Zoom, a web conferencing platform that allows students to see, hear, and interact with students in the face-to-face classroom.
 
 Registering for FLEX courses
**This initiative will include robust assessment to measure both the impact on course-related student travel and the effectiveness of the synchronous lecture model on instruction and student learning outcomes.