What to Expect
Preparing for Online Learning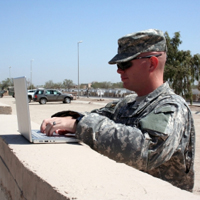 What if I am deployed?
Wilmington University is proud to have a significant number of military personnel enrolled in our programs, and we understand that deployment may be an issue for these students. If deployment occurs, we want to make this transition as stress-free and simple as possible.
Faculty are committed to having all students complete their education and, therefore, we want to assure our service members that the University will be flexible and empathetic to their unique needs. If necessary, faculty will arrange to work with deployed students on an individual basis. If a deployed student will not be able to return in a reasonable amount of time, the student may be encouraged to withdraw from any courses in which he/she is currently enrolled with no penalty by providing the University with a copy of his/her travel orders. The University will suspend any collection of tuition, fees, book costs, etc. while a student remains in a deployed status; however, military withdrawals will not be authorized without the requested documentation.
In addition, we ask students to notify the Registrar's Office as soon as possible once a deployment notice has been received. Upon their return from deployment, we ask that the Registrar's Office be notified within three weeks so that these students can experience a timely re-enrollment into their course(s).