Student Concerns
The Office of Student Concerns provides assistance to students who need direction, support, and/or correction in relation to a wide range of issues that may confront them while attending Wilmington University.
It is a resource for students who are seeking to clarify their understanding of University expectations or better manage interactions with others. In addition, we assist University staff and faculty with issues involving student conduct.
Our Mission
It is the goal of the Office of Student Concerns to treat each student with respect and compassion by providing them with resources and tools to assist with the completion of their educational goals, including a WilmU degree or certificate. We provide resources for students in times of emergencies and crises, as well as educational interventions when students display uncivil or inappropriate behaviors.
Our Values
We are responsive and respectful to our students and the entire WilmU community. Our staff is guided by integrity and experience as we provide innovative solutions for our diverse student body. We are committed to providing education and services in a caring environment.
Reporting Issues
Wilmington University students, faculty, staff and others are encouraged to report students who are struggling with personal issues or who may be exhibiting worrisome or other concerning behaviors.
Call 911 immediately to report life threatening situations, immediate danger, or extreme threats. For non-emergency assistance, please submit the form below.

Report a Student Issue
---
Student Policies and Regulations
View a comprehensive list of Student Policies and Regulations.
Please remember that care and respect for the student have been a hallmark of Wilmington University since its founding. At Wilmington University, we measure our effectiveness by your success.
If you have questions about the University that are not answered among these policies, feel free to contact Student Concerns or any member of the faculty or staff.
---
FAQ
What is the Student Code of Conduct?
Wilmington University is a community of individuals who come together to learn, work and grow in character. Students are expected to conduct themselves in a mature and responsible manner that demonstrates commitment to the ideal of honorable behavior for oneself and the community as a whole. Students are also responsible for being familiar with and abiding by the policies and regulations of the University, which are communicated in the Code of Conduct policy.
What is plagiarism and self-plagiarism?
PLAGIARISM is defined as: Submitting information without acknowledging the source through complete, accurate, and specific references, including:


Submitting work that includes the words, ideas, or data of another as your own,
Information from the Internet
Work which you have previously submitted for other assignments (known as self-plagiarism)
Copying a source verbatim

PLAGIARISM NEED NOT BE INTENTIONAL: Students are urged to consult with individual faculty members, department heads, or recognized handbooks in their discipline (see Writing Resources) if they are in doubt as to whether their work may contain plagiarized material. This should be done before the work is submitted. Plagiarism applies to the use of published and unpublished sources.
Learn more about
plagiarism and academic integrity here
.
How do I file a grade appeal?
Procedures are in place, part of Wilmington University's academic policies, to address the following:
Academic Complaints
Appeal of a Final Course Grade
Learn more about academic policies and grade appeals.
What if I need to withdraw from a class because of medical issues?
Students may withdraw from a course without academic penalty prior to the course withdrawal deadline stated in the printed Student Guide and on the website . Course withdrawals may be completed online through myWilmU  or with an official withdrawal form submitted at the Office of the Registrar or at any Wilmington University location. Students who choose to fax or mail withdrawal forms are responsible for contacting the appropriate office to confirm receipt of the request.
What is the University's class absentee policy?
Wilmington University expects students to exercise good judgment regarding attendance and absences. Students  must communicate with their instructor should a situation arise that would prevent them from  coming/participating in class. Ultimately, students are responsible for dropping or withdrawing from courses they plan not to attend.
For more information review Wilmington University's attendance policy from the Office of the Registrar.
What if I need an accommodation in the classroom or have a disability, where do I go for assistance?
Wilmington University actively supports the rights of students with disabilities to have equal access to education.  Wilmington University makes every reasonable effort to accommodate the needs of students with disabilities.
Student Accessibility Services facilitates equal access to Wilmington University programs and activities for students with documented physical, sensory, learning, or psychological disabilities.
Students must contact and self-identify with Student Accessibility Services and furnish proper documentation of their disability in order to receive available services and/or accommodations.
Download the Students with Special Needs Document
Contact: Christyn E. Rudolf, Manager of Accessibility Services
disabilityservices@wilmu.edu
Phone: (302) 356-6937
What is Title IX and how do I file a complaint?
Title IX of the Education Amendments of 1972 prohibits discrimination on the basis of sex. All recipients of  federal financial assistance must comply with the Title IX implementing regulations. Sexual harassment should  always be understood to include sexual violence. This view was expressly affirmed by the Department of  Education in its April 4, 2011, "Dear Colleague Letter" reiterating that Title IX's prohibitions against sexual  harassment also cover sexual violence and that schools must "take immediate and effective steps to respond to  sexual violence in accordance with the requirements of Title IX."
---
Meet the Staff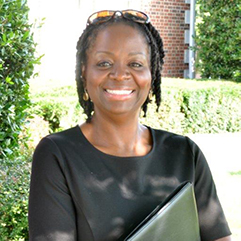 Dr. Regina Allen-Sharpe
Assistant Vice President of Student Affairs,
Dean of Students
Dan Burke
Coordinator - Office of Student Concerns