ROTC at Wilmington University
Wilmington University is proud to offer two separate ROTC (Reserve Officers' Training Corps) programs. The ROTC was established in 1916 by President Woodrow Wilson, as a part of the National Defense Act. The program was designed to offer additional leadership training for college students looking to broaden their horizons outside the classroom. Successful completion of the program will earn the graduate an officer rank (2nd Lieutenant), in their respective military branch. Though the program is intended to produce the highest caliber of officers for the military, not all courses are exclusive to those interested in pursuing a career in the armed forces.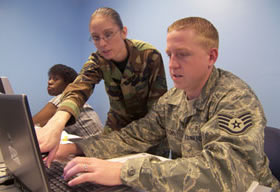 Frequently Asked Questions:
If I enroll in ROTC, won't I have a service obligation?
No. You can take ROTC courses for the first two years without incurring a service obligation. All classes are graded and will appear on your transcript. The basic course consists of 2-3 hours a week of out-of-classroom and hands-on instruction.
Are there scholarships available for the ROTC program?
Yes. The Air Force and the Army both offer a variety of financial aid options to those interested in pursuing a career in the armed forces after graduation.
Where are my ROTC classes held?
Both the Army and Air Force classes are held at the University of Delaware. Students enrolled through Wilmington University's ROTC program will be instructed at the University of Delaware's training and classroom locations.
Is the ROTC a major?
No. The ROTC program is designed to fit into and supplement any academic major offered by the University. Wilmington University offers the unique benefit of a Military Science minor to all ROTC students who complete their required courses in their chosen ROTC program. Students can contact an an admissions associate or academic advisor to see how the Military Science minor would fit into their intended bachelor degree.
Is there a specialized ROTC program for Nurses?
Yes. The Army ROTC program has a specialized program for Nursing Students.
Who do I contact for initial ROTC information, in my intended military branch of service?
Army
Recruiting Operations Officer
Michael Lim
Lt Col (USAF, Ret.)
(302) 399-1130
mlim@udel.edu
Download Flyer
How do I register for classes?
ROTC course registration follows the same procedure as all other WilmU undergraduate courses. Army ROTC courses are identified by an MLS prefix and Air Force ROTC courses are identified as AFS courses. To determine which courses you should register for, please contact your Air Force or Army Liaison at the University of Delaware listed above.